Honolulu Academy of Arts honors weaver with exhibition spotlighting lauhala hats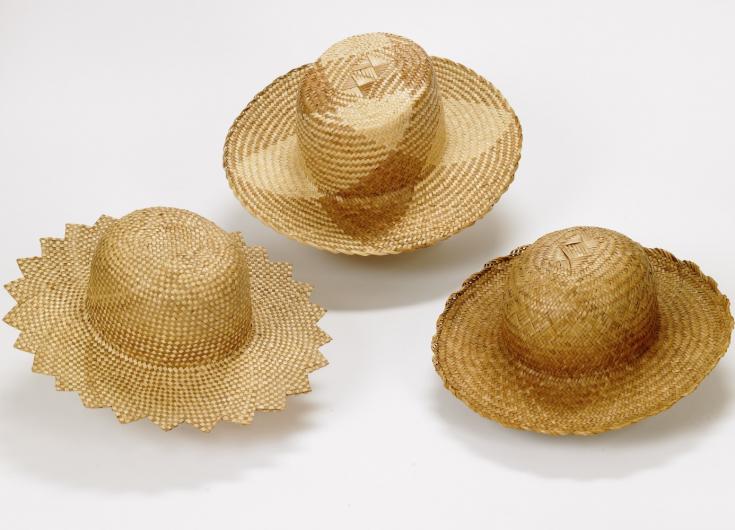 Lauhala (palm leaf) woven hats created by Gladys Kukana Grace — a recipient of a National Endowment for the Arts' National Heritage Fellowship — and more than two dozen of her students are featured in an exhibit slated to open on Thurs., Aug. 25 at Honolulu Academy of Arts.
Ulana Me Ka Lokomaika i: To Weave from the Goodness Within honors "Aunty Gladys," as she is known, for her influence as a teacher. The exhibit will be displayed through Jan. 29, 2012.
Aunty Gladys learned the art of lauhala weaving from her maternal grandmother, while growing up in the small town of Olelomoana on the Big Island's South Kona coast. Weavers claim the lau (leaf) of the hala, (pandanus tree) from that region produce the best lauhala (leaf used for weaving). Her grandmother's family was known for weaving hats with the technique of light-and-dark contrasting patterns known as anoni.
A longtime steward of lauhala weaving, Aunty Gladys has taught hundreds of students since the 1980s. Between 1988 and 1998, Aunty Gladys also participated in the Hawai'i State Foundation on Culture and the Arts' Folk Arts' Apprenticeship program.
In a press release issued by Honolulu Academy of Arts, Aunty Gladys says this of the traditional art: "It is a connection with the past. It changes your life. It will make you a better person."
While weaving techniques and patterns were once guarded as family secrets, Aunty Gladys, has long taught anyone with a desire to help keep the traditional lauhala weaving from becoming a lost art. Her lessons have included: where and when to collect lauhala, how to prepare it, and how to master complex patterns of weaving.
In 1997, with fellow weaver Frank Masagatani, Aunty Gladys founded a weaving club called Ulana Me Ka Lokomaika i.
Last year, Aunty Gladys was named as a National Heritage fellow, the nation's highest honor in folk and traditional arts. The program is designed to recognize and preserve the country's diverse cultural heritage, with fellowships going to master folk and traditional artists.
For additional information about the exhibit or Honolulu Academy of Arts, click here.