Honolulu Academy of Arts: rare paintings from Forbidden City, "Godzillathon" films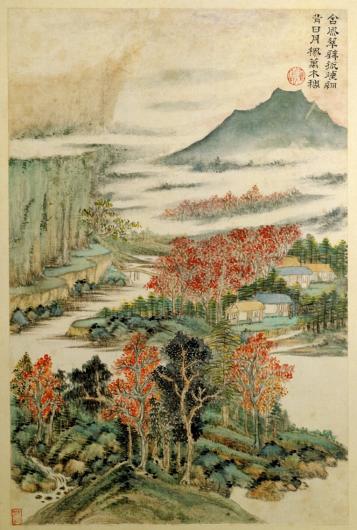 If you're on Oahu over the next week or so and you're up for a bit of art appreciation, Honolulu Academy of Arts maintains a roster of fascinating exhibits and events. Offerings in the late December lineup range from an exhibition showcasing Chinese high ideals in painting to a Japanese film series focused on campy fun.

High ideals: Masterpieces of Landscape Painting from the Forbidden City is a landmark exhibition spotlighting rare works that have never before been allowed to travel outside China. It runs though Jan. 8, 2012. Campy fun: Oh My Godzilla! Film Series, slated for four evenings, starting Tues., Dec. 27.
The Academy is offering a special exhibition tour of Masterpieces of Landscape Painting from the Forbidden City (exhibition painting, pictured, right). Through the end of the month, they're set for 10:15 a.m. tomorrow, Sat., Dec 24, Tues., Dec 27, Wed., Dec. 28, Thurs., Dec 29, and Fri., Dec. 30.
The exhibition includes 56 paintings from the Palace Museum in Beijing, which has the largest collection of Chinese paintings in the world, and 19 paintings from the Honolulu Academy of Arts' collection. The Academy's exhibition news release notes: "Together, these works reveal a painting revolution that happened in China during the 13th and 14th centuries, and forever changed the course of the arts, with its influence still felt today."
The release continues: "At the heart of the exhibition is a group of rare, early works by the four most influential artists of the Yuan dynasty (1279-1368), known as "the four Masters of Yuan Dynasty Painting"— Huang Gongwang, Wu Zhen, Ni Zan, and Wang Meng. These works have never before been allowed to travel outside China, and are not regularly displayed in the Palace Museum." Also, this is the first time that the exhibition's later Ming (1368-1644) and Qing (1644-1911) dynasty paintings from the Palace Museum have been included in an international exhibition.
"In just 100 years, you can see Chinese painting becoming much more expressive of personal vision," Shawn Eichman, Curator of Asian Art at the Academy says in the release. "Each artist was finding his voice, and using a new vocabulary to express his own ideas. These artists pushed the limits to explore new ways of painting. Their paintings want to talk to you. They want to share with you their unique perceptions of the natural world."
For more information about the exhibition, click here.
On a lighter note, the Academy will end the year at its Doris Duke Theatre with screenings of three Godzilla classics. The series will wrap up with a rare showing of the restored original 1954 Japanese classic (pictured, left).
In an Academy release, theatre director Gina Carusa says: "Aside from the fact that the Godzilla franchise is a cultural phenomenon that evinces the collective anxieties of our times, these films are first and foremost amazingly fun. I defy anyone to watch Godzilla go head to head with a jumbo shrimp on a remote tropical island without thoroughly enjoying every outrageous minute of it!"
The "Godzillathon" will kick off with a pre-screening sushi-and-saki reception, 6 p.m. to 7:30 p.m. on Tues., Dec. 27 at the Academy. The 1960s cult classic Godzilla vs. Seamonster will screen at 7:30 p.m. For more details about the film series, click here.