Honolulu celebrates Mardi Gras / Fat Tuesday tonight. Here's where to go.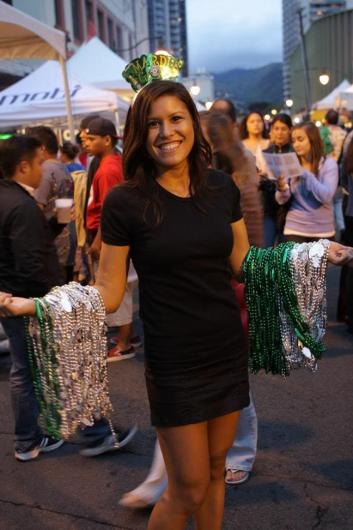 Is Mardi Gras celebrated in Hawaii?
You bet. Every year for the last 10 years, right in the heart of downtown Honolulu. If you're on Oahu tonight, the annual carnival madness of New Orleans and Rio de Janeiro is yours to enjoy on a slightly smaller if no less entertaining scale.
Honolulu's largest—and free—Fat Tuesday celebration is Mardi Gras Carnaval 2010—a street festival taking over Nuuanu Avenue in the city's downtown Chinatown Arts District. Among the attractions this year: New Orleans-, Caribbean- and Brazilian-inspired food booths, samba parades and floats, live music on multiple street stages and thousands of revelers sporting feathered masks, colorful beads and costumes. More details below.
Last year more than 10,000 people attended downtown Honolulu's Fat Tuesday celebration.
Mardi Gras Carnaval 2010 kicks off at 5:30 p.m. and continues into the wee hours.
Here's a list of tonight's Mardi Gras celebrations in Honolulu. Click on the links for more details.:
Downtown Honolulu's Chinatown Arts District
• Mardi Gras Carnaval 2010 (free street festival on Nuuanu Avenue, till 10:30 p.m.)
• Mardi Gras Carnaval 2010 after hours (entry to five clubs and lounges—Bar 35, NextDoor, Thirtyninehotel, Manifest, SoHo—for one $10 cover, till 2 a.m.)
Near Honolulu Harbor
• Mardi Gras on the Harbor (at Aloha Tower Marketplace)
Waterfront Plaza (formerly Restaurant Row)
• Mardi Gras Mania (at Oceans 808 nightclub)
Happy Fat Tuesday, Honolulu!