Honolulu celebrates St. Patrick's Day! Here's where to go.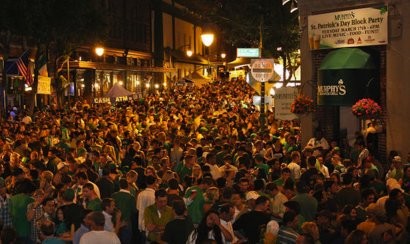 See that crowd in the above photo?
That's where we'll be this evening—at the annual St. Patrick's Day Chinatown Block Party, just a couple of blocks from HAWAII Magazine's downtown Honolulu offices. A St. Patrick's Day celebration in Chinatown? And the state's largest St. Patrick's Day party at that?
Better believe it.
Each March 17, thousands of visitors and residents seeking serious St. Paddy's day revelry invade the Honolulu Chinatown Arts District's so-called "Irish Corner"—the intersection of Merchant Street and Nuuanu Avenue. The thoroughfares just outside Murphy's Bar & Grill and O'Toole's Irish Pub are closed to traffic just before sunset. Food and libation booths and live music stages are set up. And much corned beef and cabbage, Irish stew, fresh-shucked oysters and Guinness ale later, it's March 18.
Murphy's owner Don Murphy kicked off the annual St. Patrick's Day celebration 23 years ago as a simple, if boisterous party within the walls of his humble Irish pub and restaurant. Within a decade the party spilled out onto Merchant Street, then Nuuanu Avenue, then a neighboring parking lot, eventually expanding into the massive block party you see above.
In addition to all of the delicacies mentioned above, Murphy's will be serving up fish and chips, blarney burgers (a burger with imported white cheddar and Guinness cheeses), sautéed shrimp, steamed clams and Irish whiskey cake and bread pudding. If you eat—and you should—make sure you sample some of the corned beef. Murphy's is donating $2 for every pound of corned beef it sells to the Hawaii Children's Cancer Foundation.
Providing live Irish music to nosh and imbibe by are Doolin Rakes and Elephant.
And now you know all of the reasons why we'll be there. If you're in town, you should be there, too … sporting some green.
The St. Patricks' Day Chinatown Block Party starts at 6 p.m., but Murphy's begins serving up the St. Patrick's Day food at noon. The block party officially ends at 10 p.m. However, if you're still not ready to go home, downtown Honolulu's many lounges and bars will happily welcome your desire for revelry into the wee hours.
Click here for more info and directions.
What other interesting "green" events will be happening today? Here's a list of St. Patrick's Day events we thought might pique your interest.
Erin go bragh!
• 43rd annual Waikiki St. Patrick's Day Parade
Waikiki
Noon
Bands, marchers and floats head down Kalakaua Avenue and past Kuhio Beach to Kapiolani Park for an afternoon of Irish food, music and entertainment. The parade is sponsored by the Friendly Sons of Saint Patrick of Hawaii.
• St. Patrick's Day on the Harbor
Aloha Tower Marketplace
5 p.m.
The Marketplace's celebration is a bit more subdued than its neighboring Chinatown Block Party across the road. But if more roomy environs are what you seek, the marketplace will present live Irish entertainment at its center atrium and retailer specials for folks sporting green. Elsewhere in the marketplace, Gordon Biersch Brewery celebrates with Irish music, food and drink specials.