Honolulu City Lights leads Hawaii holiday season light displays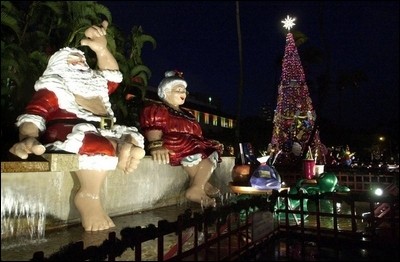 What would the holiday season on Oahu be missing without Honolulu City Lights—the city that never snows' annual display of Christmas spirit?
Let's see …
• Honolulu's 50-plus foot official Christmas tree, festooned with kaleidoscopic light effects and Hawaii-inspired ornaments, just outside the mayor's office, Honolulu Hale.
• A month-long festival of Christmas trees and wreath displays inside Honolulu Hale, and winter wonderland of giant Hawaii-themed holiday season effigies outside on the Civic Center grounds.
• Iolani Palace decked with lantern light, and downtown Honolulu office buildings firing up twinkling holiday light displays.
• The 21-foot "Shaka Santa" and "Tutu Mele" (Santa's lovely muumuu-clad wife) dipping their toes in the Honolulu Hale fountain.
• And an electric light parade and city tree lighting ceremony kicking off the whole month of Christmas cheer.
If you're on Oahu on Saturday evening 'round sunset, head to downtown Honolulu for the opening ceremonies heralding Honolulu City Lights 26th year. The best place to catch it all is Honolulu Hale and its neighboring Civic Center grounds. But the holiday light displays extend down King Street from Chinatown through the downtown business and capitol districts—not coincidentally, also the electric light parade route.
More than 75,000 residents and visitors are expected. Festivities start at 4 p.m. The mayor flips the switch on the entire light display at 6:30 p.m. or so. It's a great night.
Before sunset, the parade and the tree lighting, catch a holiday music concert at historic Kawaihao Church, across from Honolulu Hale on King Street. After the parade and lighting ceremony, stick around the Civic Center grounds for a live holiday-themed concert with Hawaii musicians Kapono, Afatia, Mailani and others.
For a full schedule of opening night events and times, click here.
Can't make it on Dec. 4? Everything except Honolulu City Lights' Christmas light parade and concerts will continue nightly at Honolulu Hale and the downtown business district through January 1.
On Dec. 11 at 6 p.m., the 10th annual Kapolei City Lights brightens Oahu's "second city" from the Kapolei Hale city building down Kealanani Avenue and residential sections of Farrington Highway. An electric light parade along the display route kicks off the evening. A block party with food, entertainment and a tree lighting ceremony follows.
And if you're on one of the neighbor islands this weekend or the week ahead, click on to the next page for a listing of holiday display kickoff celebrations statewide.
Happy Holidays!
2010 Neighbor Island Christmas display kickoff celebrations:
Kauai
Dec. 3—Lihue: 14th annual Lihue Festival of Lights. Opening night festivities start at 6 p.m. with the Lights on Rice Street parade. Food, live music and the lighting of Lihue town's Christmas decorations follow. The lights in Lihue will be on nightly until Dec. 31.
Maui
Dec 4-5—Lahaina: Holiday Lighting of the Banyan Tree. Scheduled activities include crafts, holiday cookie decorating, community choir concerts, hula, live Hawaiian music and a "snow zone." You heard right—snow. A Maui seafood purveyor makes the snow with a industrial ice machine, which is trucked over for the celebration. Lighting of the town's historic banyan tree happens at 6:30 p.m. on Dec. 4.
Big Island:
Dec. 11—Volcano: Holiday Lights Celebration. This colorful Christmas tree and light display features a children's ornament contest, an ohia yule log hunt, caroling, marshmallow roasting and a visit by Santa Claus. It takes place at Volcano Art Center's Niaulani Campus from 4 to 7 p.m. For more information, call (808) 967-8222 or visit www.volcanoartcenter.org
Note: If there's any upcoming public light display kickoffs we've missed, please let us know on our HAWAII Magazine Facebook page.