Honolulu City Lights ready to flip its 2013 Holiday Season switch this weekend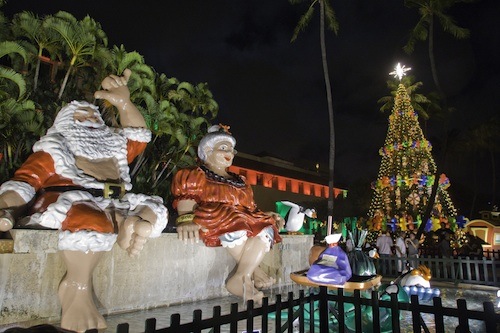 It may not snow (much) in Hawaii, but folks in Honolulu know the holiday season is officially in full swing when our 21-foot "Shaka Santa" takes his place—toes dipped in the water, left hand flashing a sky-high "shaka"—on the wall of the fountain pool at Honolulu Hale (Oahu's city hall).
Seated along lei-draped, muumuu-clad "Tutu Mele" (Mrs. Claus, if you wish), the big guy will once again oversee the opening ceremony for the city's 28th annual Honolulu City Lights holiday season display, this Saturday, Dec. 7.
The ceremony schedule will include the lighting of Honolulu's official city Christmas tree—all of 50-feet tall and festooned with kaleidoscopic light effects and Hawaii-inspired ornaments—the opening of Honolulu Hale's month-long festival of Christmas trees and wreath displays, and winter wonderland on the neighboring Civic Center grounds, featuring menehune-style elves and larger-than-life (and slightly out-of-place) snowmen.
Before the lights officially go on, though, the city's annual Public Workers Electric Light Parade—replete with floats, marching bands and more than 30 decorated city vehicles—will wind through downtown Honolulu from Aala Park to Honolulu Hale. More than 75,000 residents and visitors are expected to attend so your best bet for a curbside view is arriving early.
Festivities start at 4 p.m. Honolulu Mayor Kirk Caldwell will flip the "on" switch for the city Christmas tree at the parade's conclusion—around 6:30 p.m.—setting off holiday light displays extending from Honolulu Hale and the Civic Center through the downtown business and capitol districts to Chinatown. After that, a holiday concert kicks off at Sky Gate Park on the Civic Center grounds, with entertainment continuing until 10 p.m.
This year's City Lights theme is "Shaka Santa Goes Holoholo," which translates to "Santa is out having fun." And that's good advice for the holidays. If you're on Oahu during December, we highly recommend stopping by the Honolulu City Lights display at Honolulu Hale and checking out the holiday season lights and displays throughout downtown Honolulu. The lights will be on each evening from Dec. 7 through Jan. 1.
And don't miss an evening visit to the grounds of Iolani Palace, just a block down King Street from Honolulu Hale, to see the palace decked with lantern light.
Happy Christmas!