Honolulu gets its world-record mile-long lei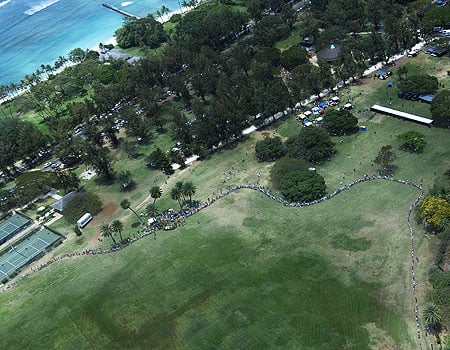 It's not official just yet.
But Honolulu Mayor Mufi Hannemann, a couple of corporate sponsors and a whole lot of volunteers donating and stringing flowers crafted the world's longest lei yesterday at May Day festivities in Waikiki.
The final length? 5,336 feet—or 56 feet over the mile-long goal the Mayor had set.
The event was documented for the folks at Guinness Book of World Records, who will, hopefully, make the world record official within the next few weeks. Overhead video from a news helicopter, photos, witness statements and the confirmation of not just one, but two notary publics will be sent to the book's British publisher.
"When that helicopter is flying overhead, I want you to wave because that image is going to be seen around the world," Mayor Hannemann instructed the crowd. The lei—which encircled much of Waikiki's Kapiolani Park, at the foot of Diamond Head—was comprised of hundreds of yard-long segments of strung-together plumeria, orchid, hibiscus and other flowers.
Hannemann, the event's de facto head cheerleader, seemed elated. "I'm very happy we're going to be in the Guinness Book of World Records," he said. "It's another great cultural achievement for the people of Honolulu."
After documentation, the crowd was allowed to take segments of the record-breaking lei with them as souvenirs.
Check out a video report on the event from Honolulu TV station KHNL here.