Honolulu lights up Christmas season in Hawaii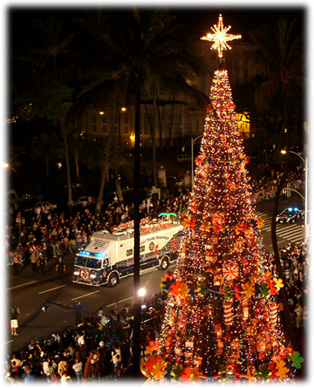 Honolulu City Lights—the city's annual evening display of holiday tidings—is back!
Those on Oahu next Saturday, Dec 5 will want to swing by the grounds of Honolulu Hale—our city hall. You'll find food booths, live entertainment, an electric light parade, larger-than-life Christmas statutes, Christmas trees and gingerbread houses and plenty of lights strung along Honolulu's Downtown office buildings. And, oh yeah, there's Honolulu's official 50-foot city Christmas tree, waiting to be lit up.
The holiday displays extend through the Chinatown, Downtown and the Capitol Districts, but much of the action happens at Honolulu Hale and the nearby Civic Center grounds. Thousands are expected to attend this year's Honolulu City Lights—the 25th anniversary of the festivities.
You'll find me taking pictures with "Shaka Santa," a 21-foot-tall Santa effigy, who sits cooling his well-traveled toes in the Honolulu Hale fountain. Other massive holiday figures include Shaka Santa's doting wife "Tutu Mele," attired in a traditional Hawaiian muumuu, and the "Snow Family"—a clan of vacation snowmen who, despite being in our tropical climes, won't melt. They're made of foam.
Historic Kawaihao Church will host a Christmas concert. Later that evening, a more contemporary holiday program—with Hawaiian musicians Maunalua, Amy Hanaialii and others—will take place under Isamu Noguchi's Sky Gate sculpture. But first Honolulu Mayor Mufi Hanneman will officially light the city's 50-foot Norfolk Pine.
For the complete schedule of the evening's events, click here.
Not in Honolulu that weekend? Concerts and other activities are scheduled on the Saturdays leading up to Christmas—Dec. 12 and Dec. 19. The light displays and sculptures can be viewed at Honolulu Hale and around downtown Honolulu until January 1.
Honolulu is not the only place in Hawaii having some holiday fun. Click to the next page for a listing of holiday kickoff celebrations statewide.
Happy holidays!
2009 Christmas Lights Kickoff Events
Big Island:
Dec. 5—Volcano: "Holiday Lights Celebration." This colorful Christmas tree and light display features a children's ornament contest, an ohia yule log hunt, caroling, marshmallow roasting and a visit by Santa Claus. It takes place at Volcano Art Center's Niaulani Campus from 4 to 7 p.m. For more information, call (808) 967-8222.
Oahu:
Nov. 29 –Kaneohe: 4th annual Windward City Lights. The neighbor block party goes from 1 p.m. to 8:30 p.m. with tree lighting ceremony at 6 p.m. near the Kaneohe police and fire stations.
Dec. 12—Kapolei: 9th annual Kapolei City Lights. Kapolei Hale—the capitol building. An electric light parade kicks of the festivities at 6 p.m. A block party will follow with food, entertainment, games and a tree lighting ceremony.
Kauai
Dec. 4—Lihue: 13th annual Lihue Festival of Lights. Opening night festivities start at 6 p.m. with the Lights on Rice Street parade. Food, live music and the lighting of Lihue town's Christmas decorations follow. The lights in Lihue will be on nightly until Dec. 31. For more information click here or call (808) 241-4925.
Maui
Dec 5-6—Lahaina: "Holiday Lighting of the Banyan Tree." Scheduled activities include crafts, holiday cookie decorating and a "snow zone." You heard right—snow. A Maui seafood purveyor makes the snow with a industrial ice machine, which is trucked over for the celebration. Lighting of the town's historic banyan tree happens at 6:30 p.m. on Saturday Dec. 5. For more information click here, or call (888) 310-1117.