Honolulu Museum of Art's exhibition spotlights regal, royal Hawaiian quilts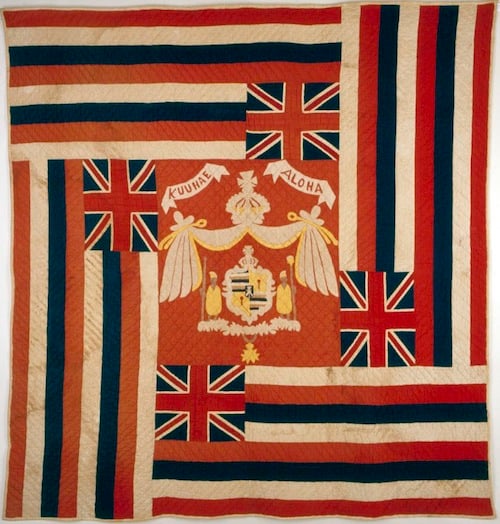 Quilting is an enduring Hawaii art form that evolved from an imported tradition. In the early 1800s, missionaries brought woven fabrics to the Islands and taught Hawaiian people how to make patchwork quilts.
For Hawaiians, who were not pressed to stitch together quilts for cold winter nights, quilts sometimes served as a canvas for elaborate artwork or storytelling or for expressing political sentiment.
The Honolulu Museum of Art is now displaying one dozen of the prized quilts in its own collection at an exhibit titled Regal and Royal Hawaiian Quilts. The exhibition, which opened earlier this month, will be on view through June 17.

Six of the quilts feature the distinctive floral design most familiar in contemporary quilts, and in dramatic color combinations not often seen today.
Among the exhibition's highlights: Kuu Hae Aloha (My Beloved Flag), a tribute to the short-lived Kingdom of Hawaii (pictured, above); and Na Kihapai Nani Ole O Edena a Me Elenale (The Beautiful Unequaled Gardens of Eden and of Elenale), an unusual quilt that includes depictions of biblical characters as well as a fictional couple from a popular 19th century romantic story (pictured below).
In addition to the artwork, which can require thousands of fine, hidden stitches, the quilt titles are integral parts of the works
In a news release issued by the museum, Sara Oka, manager of the textile collection and curator of the exhibition, said, "The naming of Hawaiian quilt designs is the originator's privilege." Oka added, "Some are straightforward while others have poetic names that echo Hawaiian legends, as in Ka Ua Kani Lehua (The Rain That Rustles Lehua Blossoms), (pictured, below) in reference to the delicate flower sacred to Pele, goddess of fire and the volcano."
Also, a recent "discovery" is on view for the first time in the exhibition. While sorting through the educational Lending Collection, museum staff discovered a quilt from Hawaii's annexation years. It was made at the turn of the 20th century (near the year 1900), and had been stored in a closet since the 1980s.
"The extremely worn, yet tenderly preserved work dispels the myth that flag quilts were never used," Oka said.
For additional information about the exhibit and the museum, click here.