Honolulu to celebrate St. Patrick's Day with Hawaii's largest celtic-themed block party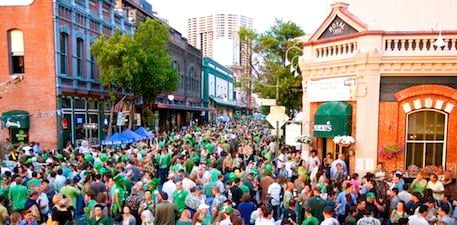 True, there are not a lot of us of Irish descent in Hawaii. No matter. It's a sure bet that there will be plenty wearin'-of-the-green and celtic-themed revelry this weekend in Honolulu's downtown area.
The annual St. Patrick's Day Chinatown Block Party—just a couple of blocks from HAWAII Magazine's office—brings thousands of Irish-for-the-day folks to the Honolulu Chinatown Arts District's unofficial "Irish Corner" (pictured, right) at Merchant Street and Nuuanu Avenue, near Murphy's Bar & Grill and O'Toole's Irish Pub.
According to event organizers, the brewers of Ireland's famous Guinness stout have declared Murphy's open-air festivities "the single biggest St. Patrick's Day party any one bar throws in the United States."
On Saturday, Murphy's will be celebrating its 25th St. Patrick's Day party, starting with a lunch menu featuring Guinness-braised lamb shanks, blarney burgers and, of course, corned beef and cabbage. For every pound of corned beef sold, $2 will be donated to the Hawaii Children's Cancer Foundation.
Lunch service starts at 11 a.m., and the official block party kicks off at noon. Throughout the afternoon, Murphy's will offer it's popular "Guinness Oyster Bar," loaded with freshly shucked oysters, steamed clams, sauteed shrimp, crab cakes and oyster shooters. For partygoers with a sweet tooth, there will be Irish whiskey cake and bread pudding with whiskey sauce.
After sunset, Merchant and Nuuanu streets will close to traffic to make room for local bands performing both toe-tapping Irish music and hard-rocking tunes. For additional information about the block party, click here or call 808-531-0422.
Among other events on Oahu slated for the holiday:
• 45th annual Waikiki St. Patrick's Day Parade — Waikiki, noon to 2 p.m. on Sat., March 17. The parade lineup, which includes bands, floats and various marching groups will head down Kalakaua Avenue, past Kuhio Beach, and finish at Kapiolani Park for an afternoon of Irish food, music and entertainment. The parade is sponsored by the Friendly Sons of Saint Patrick of Hawaii. For additional information, click here.
• St. Patrick's Day Train Ride — Ewa Railway Station and Museum, 9:30 a.m. to 11 a.m. on Sat., March 17. Ewa Railway Station and Museum will dedicate the St. Patrick's Day train ride this year to Ireland-born James Campbell, who foresaw a great future for the Ewa Plains. Also featured in the historic narration during the 90-minute ride: Hawaiian-Irish paniolo cowboy rodeo champion Ikua Purdy, and pioneer surfer and lifeguard George Freeth, who won the Congressional Medal of Honor for life-saving. Click here for more information.

Erin go bragh!