Honolulu Zoo's "Wildest Show in Town" summer concert series starts tomorrow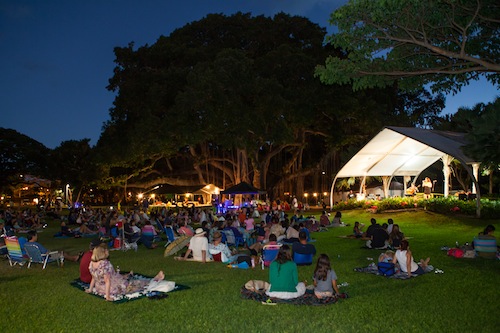 During late afternoon and early evening hours tomorrow, or on any Wednesday through mid-August, the sweet sounds of guitar and ukulele will be drifting over the hedges at the Waikiki area's Honolulu Zoo.
Staged on an cool, grassy lawn on zoo grounds, the 27th annual Wildest Show in Town spotlights: Kapena (June 12), Roy Sakuma and His Super Keiki (June 19), The Dukes of Surf (June 26), Holunape (July 3), Manoa DNA (July 10), Ohta San (pictured, below) and Nando Suan — plus ukulele groups from around the world — (July 17), Rolando Sanchez and Salsa Hawaii (July 24), Nelly and Daniel Baduria (July 31), Jimmy Borges and His Jazz All Stars (Aug. 7), and Na Leo Pilimehana (Aug. 14). Roy Sakuma, a longtime ukulele teacher/music producer and organizer of the annual Ukulele Festival Hawaii (held in Kapiolani Park each July), will serve as emcee. Gates open at 4:35 p.m. (zoo exhibits close at 5:30 p.m.), and the hour-long shows start at 6 p.m.
The Honolulu Zoo Society maintains that the show is Oahu's longest-running summer series and remains among the most affordable. The participation fee is $3 per person, with proceeds benefiting the Honolulu Zoo Society, which focuses on conservation education programs. Food and beverages will be sold separately. Pre-order bentos will also be available (call: 808- 729-1002).
Pre-concert family activities include: "Keiki Koloring Contest" for prizes; a mini-guided zoo tour for the first 30 people to sign up; and a conservation station highlighting animal "biofacts" and hosted by zoo volunteer Junior Leaders. Sakuma will conduct a drawing before every concert that will give keiki (ages 6-12) a chance to win a Kala soprano ukulele. Adults can also enter to win for ukuleles donated by KoAloha, Kamaka, Kala, Koolau Pono and Kanilea Islander. No purchase necessary to enter drawing.
For more information about the 2013 Wildest Show in Town, presented by Bank of Hawaii, click here.