Honolulu Zoo's "Wildest Show in Town" summer concert series under way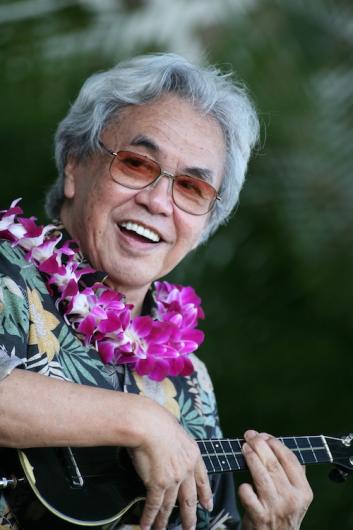 During early evening hours today, or on any Wednesday through Aug. 8, the sweet sounds of guitars and ukuleles will be drifting over the hedges at the Waikiki area's Honolulu Zoo.
Inside the zoo, on a stage overlooking a cool, grassy lawn, Honolulu Zoo's Wildest Show in Town is holding its 26th annual summer concert series. Gates open at 4:35 p.m., and, unless otherwise specified, the hour-long shows start at 6 p.m. Roy Sakuma, a longtime ukulele teacher/music producer and organizer of the annual Ukulele Festival Hawaii (held in Kapiolani Park each July), will serve as emcee.
Sakuma (pictured on stage, below) who, since the mid-1970s, has taught thousands of ukulele students at his Oahu studios, will perform this Wednesday with a group of youngsters dubbed "Super Keiki."
The Honolulu Zoo Society maintains that the show is Oahu's longest-running summer series and remains among the most affordable. Admission is $3 per person, with proceeds benefiting the Honolulu Zoo Society, which focuses on conservation education programs.
A finale fundraiser, featuring a performance by Ho okena, is set for Sat., Aug. 11. Tickets for the closing show may be purchased at Wednesday evening events. For additional information about tickets, click here. There will be two drawings at evening the events, one for an adult ukulele and the other for a keiki ukulele.
Here's the rest of the performance lineup for the 2012 Wildest Show in Town series:
• June 27 — Roy Sakuma and his Super Keiki
• July 4 — Frank Delima
• July 11 — Manoa DNA
• July 18 — Ohta San (pictured, above) & Nando Suan (5 p.m., guest ukulele performers from around the world)
• July 25 — Daniel & Nelly Baduria
• Aug. 1 — Jimmy Borges & his Jazz All Stars
• Aug. 8 — Sean Na auao
• Aug. 11— Ho okena
Concertgoers may purchase refreshments offered by the zoo's concessionaire. Beach blankets and low-slung seating are welcome. Leave high-back chairs at home. Also, alcohol will not be permitted on the grounds. This year's series is organized by the nonprofit Honolulu Zoo Society and sponsored by McDonalds Restaurants of Hawaii. For additional information about the concert series and the zoo, click here.