Honolulu's Foster Botanical Garden hosting free Twilight Summer Concert Series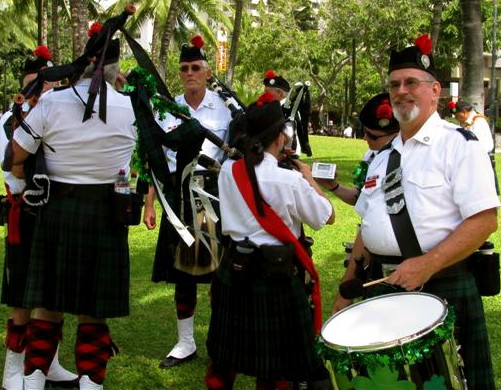 Foster Botanical Garden, a 14-acre green haven in the midst of busy downtown Honolulu, is now hosting its Twilight Summer Concert Series, featuring music that will get your toes tapping — and maybe even dancing — during your stroll through the lush grounds.
Celtic Pipes and Drums of Hawaii, (pictured, right) is slated to perform from 5:45 p.m. to 6:30 p.m. Thurs. June 30. Admission is free, and the garden will be open for the event from 4:30 p.m. to 7:15 p.m.
So, take your time and explore the garden's palm collection, orchid garden and hybrid orchid display, and check out its two dozen "exceptional trees," which are protected by state law. Across the island, more than 100 trees — due to age, rarity, location, size, aesthetic quality, endemic status or historical and cultural significance — are designated by the Oahu County Arborist Committee as worthy of preservation.
Twilight Summer Concerts will continue on Thursdays, 5:45 p.m. to 6:30 p.m. through the end of July. Here's the rest of the performance lineup.

July 7 — Saloon Pilots (progressive bluegrass)
July 14 — KFC-Hawaiian Music: Keith Haugen, Frank Uyehara & Carmen Haugen

July 21 — Manoa Strings (string quartet)

July 28 — To be announced
For more information Honolulu Botanical Gardens, 50 N. Vineyard Blvd., and its summer programs, click here.