Hotel Hana-Maui to change names, become Travaasa Hana in late June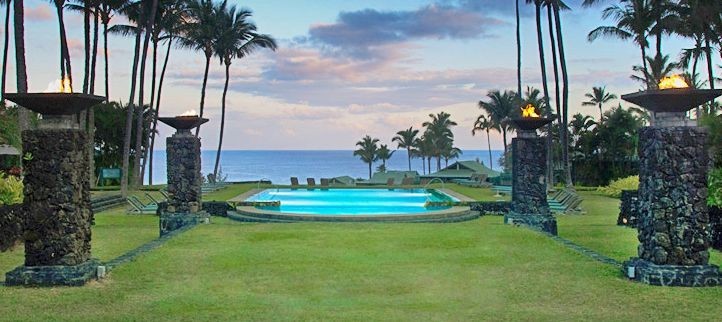 The Hotel Hana-Maui is undergoing a makeover that aims to establish it as an "experiential hotel."
Starting on Thurs., June 30, the secluded hotel at the end of the winding and scenic Hana Highway will go by the name Travaasa Hana, and guests may pay an all-inclusive rate for accommodations, meals, spa treatments and activities. Some al la carte pricing will also be available.
Travaasa Hana will be one of two "Travaasa Destinations," which are tailored for guests seeking to immerse themselves in adventure, culinary, culture, fitness and spa offerings tied to popular local and regional pursuits and traditions.
Travaasa Austin, which opened in mid-April, offers Texas-themed experiences, ranging from cowboy poetry to a mechanical bull-riding workout. All-inclusive prices at Travaasa Austin start at $595 per person, per night, based on double occupancy including taxes and gratuities, according to the hotel's website.
Plans in the works for guest experiences at Travaasa Hana include stand-up paddle boarding, bicycle tours, ukulele lessons, coconut husking, throw-net fishing demonstrations, hula, and guided coastal and garden walks along Maui's lush eastern coastline.
Travaasa Destinations are operated by Green Tea, a Denver-based unit of Amstar Group, a real estate and investment development company. Amstar Group bought Hotel Hana-Maui in April 2010.
Under Hotel Hana-Maui's current pricing structure, room rates start at $325 for double occupancy at the 70-room hotel, which features bungalows and cottages. The 69-acre hotel property, which opened in 1947, is surrounded by a 4,500-acre ranch at the end of the 54-mile "Road to Hana."
Travassa's pricing for guests at the hotel's "Sea Ranch Cottages" will start at $499 per person per night, based on adults-only double occupancy, and includes daily spa credit, gourmet meals and snacks as well as access to all programming and property amenities. Pricing for "Garden View Suites," based on double occupancy, starts at $399 per night, based on double occupancy. Activities and meals for those suites must be booked a la carte.
For more information about Hotel Hana-Maui and plans for Travaasa Hana, respectively, click here and click here.