Hours change for Kilauea volcano oceanside viewing area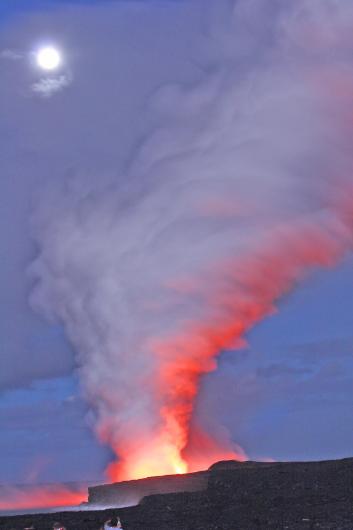 News for Big Island of Hawaii volcano watchers: visiting hours at the Waikupanaha oceanside lava viewing site have been cut back.
Spectators can now take in views from the coastline overlook—where lava can be seen surging into the ocean—only at night, from 5 p.m. to 10 p.m. The good news? Evenings have always been one of the best times to check out the Puna coastline lava flow, as evidenced by photos regularly sent to us by our Big Island friends, volcano watchers Stephen and Donna O'Meara.
The O'Meara's took the dramatic photo on the left—of lava entering the ocean under a full moon at the Waikupanaha coastline viewing area—on an evening in early January. Click here to scan our "Volcano News" posts for regular Kilauea volcano updates and more photos from the O'Meara's and the United States Geological Survey.
Before heading out to the viewing area, know that its parking lot closes to all incoming traffic at 8 p.m. This allows all visitors to have at least two hours to traverse to the oceanside viewing site and back.
Since opening to the public in March 2008, more than 241,000 visitors have traveled to the coastline site, spurred by Kilauea's burst of summit and flank eruption activity last spring.
On rare occasions, Big Island county officials close the Waikupanaha site for safety reasons due to unexpected lava flow activity. You can confirm if it is open by calling a daily-updated lava hotline at (808) 961-8093.
Should the new night hours not work with your schedule, there are other ways to check out the magma. The view from a helicopter or airplane tour flight over remote Pu'u O'o vent is best if you want to see the breadth of the eruption. These tours generally fly passengers over the Pu'u O'o vent, down slope past its underground and above ground lava flows, and eventually to Waikupanaha on the Puna coastline.
Aside from spectacular rivers of liquid rock, the other thing Hawaii's volcanoes are known for is volcanic smog, or vog. The sulfur dioxide-rich byproduct is a known cause of numerous respiratory ailments and is dangerous to be exposed to in high quntities.
A new state-funded website provides information on vog concentrated areas around the Big Island. Vog levels—from "good" to "hazardous"—are tracked via color-coded warnings. The dreaded maroon-colored "hazardous" warning level of vog is a rarity—unless, of course, you're standing on the edge of one of Kilauea's active vents.
Best to avoid that.