How a hula group in Paris is helping to heal the city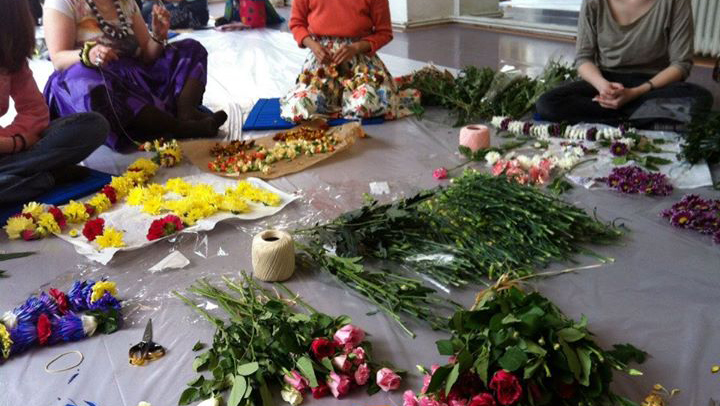 Following Friday's coordinated terrorist attacks in Paris, France, a hula halau (dance troupe) based in the "City of Light" united over the weekend to share the aloha spirit and wishes of healing to the victims and its citizens.
On Sunday, Halau Hula O Manoa attended their already scheduled, routine lei-making class, but it took on a new feeling and sense of purpose.
"Those that gathered, it became a way of honoring the victims, making the lei with the intent of trading them as offering," kumu hula (hula teacher) Kilohana Silve, who founded the school in 1992, said to HAWAII Magazine. Using fern and eucalyptus, the students also chanted the oli (Hawaiian chant) that Hawaiian language scholar Puakea Nogelmeier wrote over the lei-making process and while they were offered.
Students offered the lei to various sites and establishments in their neighborhood and the city. They also chanted two original oli written by Nogelmeier, who composed one of them in the violent wake of the ISIS-organized attacks on Friday.
It's titled "He Wehi Aloha" (An Expression of Aloha):
Aloha na pua o ke ao, mai o a o
E mohala mai ana i ka malamalama
O ka welelau makani ke hoopa mai
E mapu mau ana ka nani me ke ala onaona
E mohala mau kakou e,
Aloha e, aloha no la e
Translation:
Beloved are the flowers, here, there and everywhere
Blossoming forth into the world of light
The fringes of the winds touch each and every one
Beauty and sweet fragrance waft forever on the breeze
May we all bloom forth and flourish, ever on and on
Let there be love, for love, indeed, abides
The accompanying oli, "He Oli Hoohalialia" (A Chant of Remembrance), was another original composition of healing Nogelmeier originally wrote to honor the NAMES Project AIDS Memorial Quilt in 2008. He then granted it Silve, who called it beautifully soothing and healing, to share this past January to memorialize the Charlie Hebdo attacks.
"It was nice to have that connection, that something from Hawaii brought comfort and healing," Silve said. "There was a feeling of how nice, even though we're very far away, there was a Hawaiian connection. There's a feeling that the Hawaiian culture has so much to offer, not only as an art, but in very difficult situations it's a source of strength and healing even in a foreign land."
"I'm hopeful they will be able to generate aloha in a place that sorely needs it," said Nogelmeier of both oli.
Silve founded the halau in 1992. She first moved to Paris in 1972 as an art history student from Oahu, thereafter meeting her husband, having a daughter and then raising the family in France for 30 years. She now lives in Manoa on Oahu, but travels regularly to teach at the Paris school. Her daughter still resides there, along with Silve's grandchild, who are both safe, she said.
Silve was here on Oahu when she heard the news last week, so she can only imagine what the city is feeling now. When Silve was in Paris last it was following the Charlie Hebdo murders.
"I was there for the birth of my grandson and you could feel the tension. You can see and feel it," she described. "Usually people are commuting to work, they're reading, listening to music, but people appeared vigilant, looking around, on edge. Not relaxed. You could feel it everywhere, underground and on the streets."
She and her students hope that with the Hawaiian culture they can bring comfort to Paris as it grieves. The halau itself is still reeling from the attacks, Silve said of the several students she spoke with about the group's disposition and mood, but "at the same time life has to go on."
"The students tell me they're making the conscious decision to continue with their activities because the intent of these attacks, where this terror reigns, where they're not allowed to have music and dance and where they live in fear, is to stop us," Silve explained. "To put us to grinding halt. So to go about one's normal life is important, and for many of the people in the halau in Paris hula is an important part of their lives, their Hawaiian cultural practices."
That's how Halau Hula O Manoa remains steadfast through all this. "It's just continuing to meet for classes, to work on different projects, to share music and the art of hula," Silve said, "which is very healing and uplifting."