How Hawaiian Airlines' Basic Economy Fare Compares to Southwest Airlines
Looking to attract economy travelers, Hawaiian Airlines has announced a new, more affordable airfare option.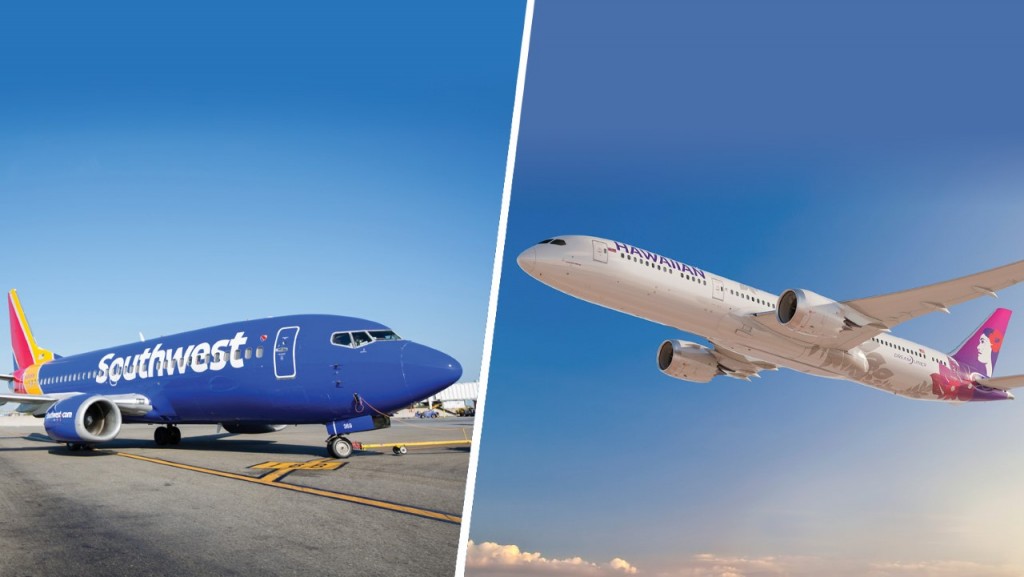 The inevitable has happened—and that may be good news for travelers.
Hawaiian Airlines has started selling a new, more economic airfare option to travelers looking to fly cheaper. The program will start on Oct. 21.
The airline has dubbed this new option as "Main Cabin Basic," and, like other airlines, Hawaiian Airlines' new fare comes with an assortment of restrictions and limitations. The local airline is rolling out this new economy fare slowly; these more affordable tickets can only be purchased if you're traveling between the Daniel K. Inouye International Airport (HNL) and the Los Angeles International Airport (LAX), Long Beach Airport (LGB) and Norman Y. Mineta San Jose International Airport (SJC). What's interesting to prospective flyers, however, is how the carrier's economy seating compares to Southwest Airlines' own affordable, but barebones, "Wanna Get Away" ticket option.
First, of course, is the price. Although Hawaiian Airlines won't be flying with this program in effect until Oct. 21, tickets are already on sale. When we tried booking flights using the airline's Main Cabin Basic option online, a ticket from LAX to HNL leaving on Monday, Oct. 21 and returning on Friday, Oct. 25 came out to $462.20. Using those same travel dates, the cost of Southwest Airlines' "Wanna Get Away" fare was $479.60. Surprisingly, Hawaiian Airlines had the edge not only in price, but in flight time as well.
If you decide to fly with Southwest Airlines using the cheapest ticket options and travel times, you'll be in the sky for about eight hours between LAX and HNL, according to Southwest Airlines booking website. On the other hand, passengers using Hawaiian Airlines' Main Cabin Basic fare can expect to make the trip to Honolulu from L.A. in just under six hours, with a slightly shorter return flight (5 hours, 30 minutes), according to Hawaiian Airlines' online travel planner.
If flights were as simple as price and time in the sky, Hawaiian Airlines would be the easy favorite. However, we have to consider what exactly the Main Cabin Basic fare entails to get a full comparison. With this cheaper option, travelers can still bring one free carry-on bag as well as a personal item into the cabin but will not be able to upgrade their seats at check-in. They also won't have the option of changing their flights or itinerary. Refunds are also a no-go for Main Cabin Basic fare flyers. Conversely, Southwest Airlines does allow for at-the-gate seating upgrades and has much more lenient cancellation and flight change options.
Likely the biggest issue for traveling families or groups is that this new fare won't allow flyers to pick a seat until they check in for their flight. If they don't pick a seat upon check in, they will be assigned a seat at the gate. Hawaiian Airlines' Main Cabin Basic flyers will also be the last to board the plane. While Southwest Airlines operates in a similar fashion, you do have the option of checking in earlier and being assigned a higher boarding priority number. And if you're checking in luggage, Southwest Airlines still has Hawaiian Airlines beat, allowing for two complimentary checked pieces of baggage per ticket, while its island competitor charges $25 to check in one bag and $35 for the second.
For travelers coming in from the Mainland, you'll also be happy to know that a meal is included with Hawaiian Airlines' Main Cabin Basic ticket. That means you won't purchase overpriced airport food to bring on the plane, which might be the case if you're flying with Southwest Airlines, as the carrier does not offer a complimentary meal. Hawaiian Airlines also has tropical cocktails and Lion Coffee—a local favorite—on board for purchase.
That's everything we know about Hawaiian Airlines' new fare, and it looks like a great, affordable alternative to Southwest Airlines. Hopefully, in the near future, Hawaiian Airlines will offer more Main Cabin Basic fare routes (interisland flights, please!). If you want to check out the fare for yourself, you can find the complete details, including fare restrictions, on Hawaiian Airlines' website.
For a more comprehensive comparison between Hawaiian Airlines' standard fare, Southwest Airlines and Mokulele Airlines, click here. If you want to see what it's like to fly interisland with Southwest Airlines, click here.