How Southwest Airlines Compares to Hawaiian Airlines and Mokulele Airlines
The low-fare carrier has a lot of competition; so how does it measure up?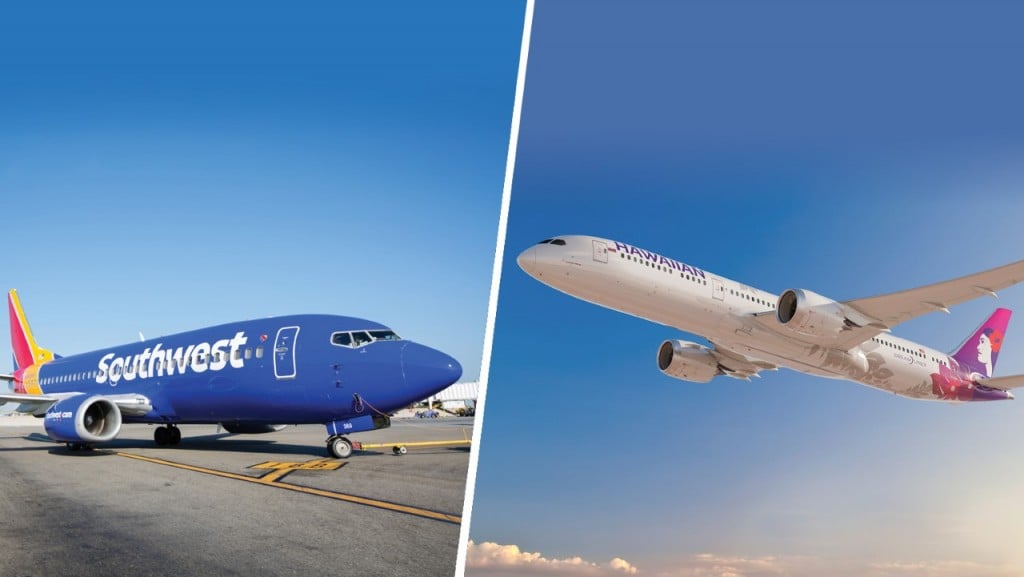 It's finally happened. Budget carrier Southwest Airlines has begun selling tickets to Hawaii. Starting service to the Islands on March 17, the airline's introductory rates are intoxicating, with one-way tickets from San Jose and Oakland in California to Honolulu as low as $49. But how does Southwest Airlines stack up against the likes of local airlines, such as Hawaiian and Mokulele? Let's find out.
Prices
Low prices are Southwest Airlines' main attraction, and its inaugural rates are tough to contend with. Hawaiian Airlines is charging $280 for a one-way trip from Oakland to Honolulu with the same travel date as Southwest Airlines' $49 offer. Of course, Southwest's prices will likely rise after its initial Hawaii debut phase.
When flying interisland, Southwest Airlines also seems to be the most affordable option. A one-way ticket from Honolulu, Oahu, to Kahului, Maui (currently Southwest Airlines' only interisland option), is priced as low as $29. Hawaiian Airlines sells a red-eye ticket with the same travel specifications at $69, while Mokulele Airlines' lowest fair to Kahului comes in at $91.
In response to Southwest's super-low fare, Hawaiian Airlines released this statement: "Fares fluctuate on a daily basis in the airline industry and introductory fares are especially typical. We have responded to some of Southwest's introductory offers, and as we do every day, we will continue to offer guests throughout our network competitive fares and superior value with award-winning Hawaiian hospitality throughout our cabin, complimentary meals, and leading punctuality."
In-flight Experience
Price isn't everything. Poor flight conditions can make traveling more difficult than it needs to be, especially when traveling long distances. So far, Southwest Airlines seems to be providing everything travelers need, with an economic mindset. This means complimentary snacks but no in-flight meal, free movies and entertainment that are only accessible through your personal laptop or phone, and unlimited Wi-Fi for $8.
Here is where Hawaiian Airlines shows its upper hand, as the carrier still offers meals when traveling to California, as well as entertainment systems with a built-in screen. The airline has also made a push to feature olelo Hawaii (Hawaiian language) on its flights, meaning you'll be experiencing an important cultural aspect of the Islands on your flight over. Both carriers feature drink menus, however, Hawaiian Airlines goes a step further with custom cocktails and mai tais.
SEE MORE: Cocktails and Lion Coffee Join Hawaiian Airlines' In–flight Drink Menu
Although Mokulele Airlines' in-flight accommodations are scarce, aside from an issue of Hopper Magazine, the views that you get on its flights are hard to beat. Be prepared to snap photos as your aircraft flies low below the clouds, giving travelers a perfect view of the islands they're leaving and the one they're about to touch down on. Also, fair warning, you tend to feel a bit more turbulence when flying with Mokulele Airlines, as its planes are much smaller than its competitors.
SEE MORE: Why Flying Out of Hana was the Best $35 I Spent
Seating
Hawaiian Airlines allows passengers to upgrade to extra comfort and first class, meaning more legroom for those with a little extra money to spend. Southwest Airlines, however, only offers one seating option: economy. The space on a Southwest Airlines flight will also be a bit more cramped compared to Hawaiian Airlines, as its planes feature one aisle, with a row of three seats on each side, while Hawaiian Airlines' planes feature a larger hull, with two aisles, a row of three seats on each side and a row in the middle.
Of course, comparing Mokulele Airlines to its competitors is difficult here, as its planes are nowhere near the size of those in the Hawaiian Airlines and Southwest Airlines fleets. However, if you're not a fan of crowds, Mokulele Airlines tends to have relatively empty flights if you're flying a red-eye. That means you get to stretch out a bit while hopping between islands.
Baggage
Southwest Airlines comes out ahead in the baggage department, allowing flyers to bring on one carry-on and one small personal bag (backpack, laptop bag, purse), while also allowing for two complimentary checked pieces of baggage per ticket. Hawaiian Airlines similarly allows one carry-on and one personal bag, but charges $25 to check in one bag and $35 for the second. Mokulele's baggage policies are similar to Hawaiian's, allowing for one free carry-on and then charging $20 to check in a single bag and an additional $25 to check in a second bag.
It's worth noting that if you're traveling with a surfboard, flying with Southwest Airlines will be cheaper, as they only charge $75 each way, while Hawaiian Airlines charges $100 each way. Mokulele charges $35 for each additional oversize bag.
Time in the Sky
When it comes to flight length, an important factor for those who aren't fans of flying, Southwest Airlines shows a five-hour, five-minute flight ETA when traveling from Oakland to Honolulu. Hawaiian Airlines' booking website presents a flight time of five hours and 50 minutes, 45 minutes longer than Southwest. Of course, there are many factors that can throw this measurement off, including delays on the tarmac, winds and unruly passengers.
Interisland flights from Honolulu, Oahu, to Kahului, Maui, give Hawaiian Airlines a small advantage, with its shortest flight coming in at 39 minutes, and Southwest Airlines' at 45 minutes. Mokulele Airlines' shortest flight is 55 minutes, however many of its flights from Honolulu to Kahului feature a layover in Hoolehua, Molokai, which increases the overall transit time to nearly three hours.