How to holoholo around historic Hanapepe Town
On the west side of Kauai, travel back in time to a small, charming town with a lot of character.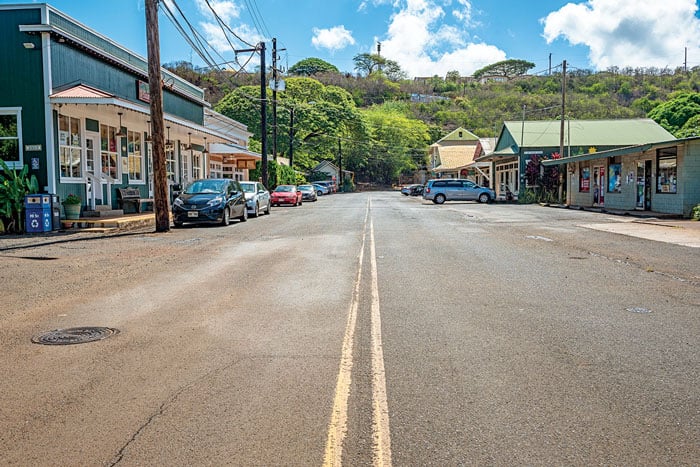 You might miss Hanapepe Town, unless you know where to turn. Kauai's major highway sends commuters speeding around it, west toward Waimea and east toward Poipu. But it's probably better kept that way.
It's a sleepy little town where sitting on a front porch counting cars while eating a lilikoi-cheesecake ice pop could become a pastime, and I wouldn't want it any other way.
Veer off the highway onto Hanapepe Road and you'll find its colorful wooden buildings—historic structures built in the 1930s and '40s—lining its main street as storefronts. Some are weathered and worn with paint cracking and tin roofs rusting; others clearly have had a fresh coat of paint; and another small few are abandoned, waiting for a new owner to breathe life back into them. Large pink bougainvilleas hang over lanai (balconies and porches), adding a pop of color to the landscape, and I watch as the west side's famous red dirt swirls in the wind across the dusty paved road. It could be the setting for a movie, I think, but then a mural of Disney's "Lilo & Stitch" on a boarded-up building's wall reminds me it already has been.
I pull my car up to a worn-down, faded green cottage and park in its makeshift driveway—half parking on the sidewalk. It could be a family member's house, if not for the large sign on the side of the building designating this to be the Taro Ko Chips Factory. The screen door is propped open, so that means it's open for business—how business hours work in a small town such as this. Inside, its 62-year-old owner, Dale Nagamine, is stirring slices of chips in a 30-inch wok, while his childhood friend, Stanley Sakoda, greets me by the door and takes my cash at $5 per bag of taro chips. I believe these are the best taro chips in Hawaii, so I pile a stack of them on the table for Sakoda to count, along with my other favorite variety, the li hing mui-flavored potato chips. I leave with six bags in all, already thinking I should have bought more for the lengthy list of people who asked I bring some back to Oahu for them.
I move my car to the middle of town, near the Swinging Bridge (a fun photo op over Hanapepe River), and walk to my next stop, Talk Story Bookstore. It's a new, used and out-of-print bookstore, which, according to the white-on-red lettering underneath its tin roof, is also "the western-most independent bookstore of the United States." I'm here because I know I can find books about Hawaii, and specifically Kaua'i, that I can't get anywhere else. But this store has everything: comic books, thrillers, sheet music, Hawaiian language children's books and even the new Harry Potter and the Cursed Child.
"We bring in about 3 to 5,000 new books every month, and then we bring in about 3,000 secondhand, rare and collectible books per month," the owners, Cynthia and Ed Justus, tell me, adding that 95 percent of their secondhand and rare books are sourced on Kauai. After nearly two hours browsing and talking story with its owners about local fiction and authors, I finally leave with two murder-mystery books, Murder on Molokai by Chip Hughes and Cult of Ku by Bill Fernandez.
Now hungry, I walk back down the street to a new restaurant that opened this past July. The building, as it turns out, is split into two parts: a restaurant, Japanese Grandma's Café, serving healthy Japanese meals with freshly caught fish, and a retail store, called Blü Umi, selling jewelry, apparel and home decor. I grab a seat by the window inside the small, but modern-looking, café, and place my order: one 
poke-rito ($13; a Japanese style sushi burrito), and the tempura and California roll set-lunch ($14).
The square plate comes out first with two pieces of shrimp tempura, three pieces of veggie tempura, an eight-piece sliced roll, a salad and rice. I don't even wait for the next dish I see the chef finish preparing at the kitchen's bar, and dive right in to the wonderful flavors of the tempura and sushi, tasting a little bit of everything before me. The poke-rito is soon delivered though, begging to be tried—large chunks of ahi poke, wrapped in seaweed with cucumber, avocado, greens, spicy mayo and rice. I can't resist and take a large bite of it too, finding all the ingredients fresh, tasty and extremely satisfying.
Next, I decide to walk off the meal, making another loop around the town and stopping inside Amy-Lauren's A Gallery, across the street from Talk Story Bookstore, drawn to its plein-air impressionist paintings (a favorite style of mine) by artists Martin Wessler and Pierre Bouret. There are many galleries on this road, though, and most of them will tell you about the town's Friday Art Night that happens each week from 5 to 9 p.m. Supposedly, it's a happening night on Kauai where residents and visitors take over main street with food, entertainment and, of course, art. For now, though, I prefer feeling as if I have the town to myself and have been enjoying the engaging conversations I've had with the store and gallery owners, which otherwise I wouldn't have had with hundreds of other people around.
Back to my car, as the day is drawing to a close, I make one final stop outside of main street: Salt Pond Beach Park. It's a left turn onto Lele Road after returning back onto Kaumualii Highway. I have a couple hours left of sunlight and I intend to soak up the sun at a part of Hanapepe I've not visited before. It's a swimming beach protected by a reef, with a swath of white sand long enough to fit the large handful of people there, and still not feel crowded. I find a spot to lie down on the beach and watch the waves gently roll against the shoreline as I try to doze off after the long day of eating and shopping, and now thinking there's only one thing missing: that ice pop.