How to mail a coconut from Hawaii in four easy steps
It's the perfect Hawaii souvenir or gift. Learn how to mail and design your very own coconut.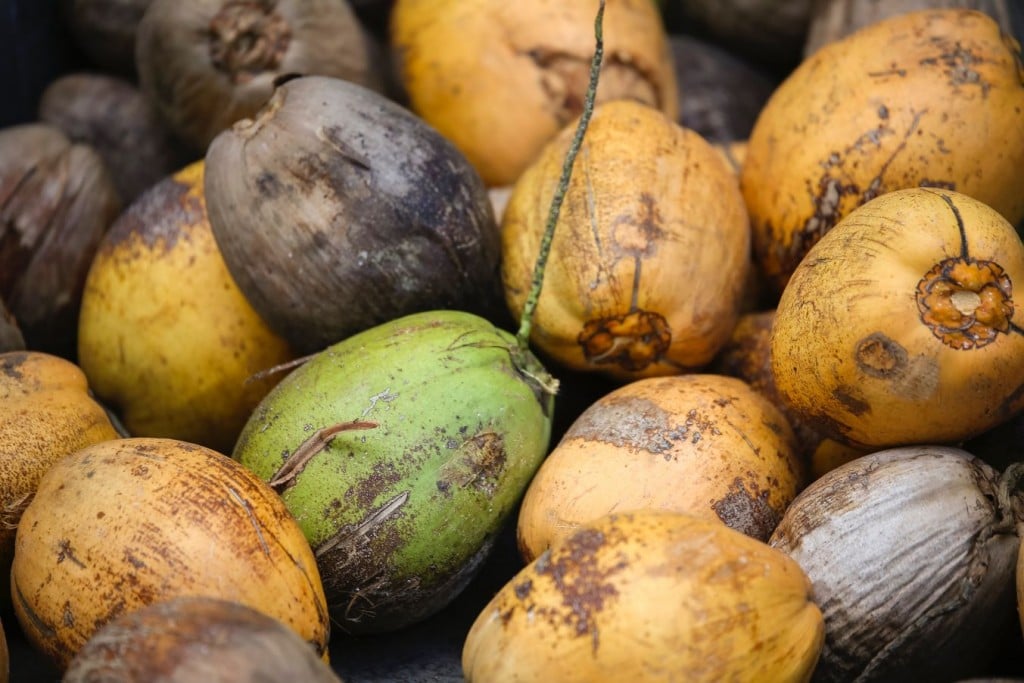 Finding the perfect souvenir or gift to send to family and friends off-island is a difficult task. One idea that'll save you money: Send everyone's favorite drupe, the coconut. And we know what you may be thinking: "You can't mail a coconut!" However, not only can you decorate and mail a coconut to the continental United States from Hawaii, there are services that will take care of it all for you. To find out more, check out our step-by-step guide below.
Step 1: Finding your coconut
If you want to make this gift as personal as possible, finding your own coconut is an important first step. You can purchase one from a local farmers market, such as Kapiolani Community College's farmers market or the Koloa farmers market, or you can simply search for fallen coconuts under any of Hawaii's many coconut palm trees. However you approach it, you'll want one with a hardened, not-so-hairy husk, which makes it easier for designing and attaching the appropriate shipping stickers.
Step 2: Inspecting your coconut
Before we get to the fun part, you'll want to take your coconut, or a few coconuts, to the local airport for an agricultural inspection. This process ensures your tropical souvenir isn't storing any invasive pests or diseases, which could then spread at their destination. Bringing a few coconuts will increase your chances of getting one approved by inspectors. Once your coconut has been processed and approved, it's time to start decorating.
Step 3: Glam up your coconut
Coconuts serve as a great canvas to get creative with. You can bust out some paints, colored markers or Sharpies and give your coconut a funny face, or just paint an image that will show your recipient what Hawaii is all about, such as a yellow hibiscus flower, or a sunset, or maybe even another coconut. When applying postage stamps–remember, you're actually mailing the coconut itself–maybe choose one that's linked with Hawaii. Just try to not make your coconut look too good, or you might not want to send it off at all.
Step 4: Shipping your coconut
Finally, it's time to part with your dazzling drupe and send it off to its final destination. Just head over to any Hawaii post office, which will take it off your hands and send it on its way. And don't worry about getting weird looks from other post office customers, as mailing coconuts is not an uncommon practice in Hawaii.
Alternatively, if you want to save some time and hassles, there are multiple businesses and services that will find, customize and send a coconut for you. The Hoolehua Post Office's Post-A-Nut service sells already-inspected coconuts that are ready to ship, and will design it to your liking. The Punaluu Bake Shop on Oahu also sells prepainted, ready-to-go coconuts, which they will send off-island for you.