How to mail order Hawaii-made Portuguese sausage on the Mainland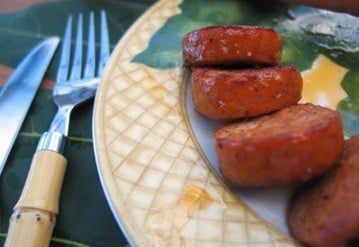 Reader Lynette Parrow e-mailed us with a question about a longtime favorite Hawaii comfort food:
Each time I have been in Hawaii, I enjoy the great Portuguese sausage at the hotels. It is only one of the wonderful foods I have enjoyed on the beautiful Islands. Where can I get it shipped to me? I live in Missoula, Montana.
You ask, we answer.
Some quick background: There's a short list of foods that immediately say "Hawaii." Near the top of that list is Portuguese sausage.
In Portugal, these style of pork sausages with vinegar, black pepper, garlic and paprika are known as linguiça and chouriço. They were brought to Hawaii during the late 19th century by Portuguese immigrants—more than 10,000 of which came to work the sugar plantations.
Like many things that come to Hawai'i from other cultures, the sausage evolved. What's now called Portuguese sausage here is a larger, slightly sweeter and softer sausage than the original linguiça. You can buy it in both mild and hot versions, the latter having a dash of red pepper.
Portuguese sausage is so popular in the Islands that even McDonalds restaurants offer Portuguese sausage, eggs and rice on their breakfast menu. It's also a critical ingredient in that favorite Hawaii comfort dish, Portuguese bean soup.
Once you develop a taste for Hawaii-style Portuguese sausage, even authentic linguiça or chouriço, good as they are, won't do. Some Hawaii-made sausage is distributed on the Mainland, but we doubt much of it makes it to Montana.
You can order Portuguese sausage on the web, from, for instance, businesses like HawaiianFoodOnline.com. Hawaiian Food Online offers a Hilo-made Portuguese sausage from Frank's Foods that's hard to get even on O'ahu. Many folks in the Islands, especially from Hilo, swear it's the best.
Other notable Hawaii brands include Redondo's—which was voted a reader favorite in a poll conducted by our sister magazine Honolulu—Gouveas, Ono Ono, Uncle Louie's and Kukui. The winner of my personal taste test is Rego's Purity, which you can order online at www.regospurity.com.
You could, of course, make your own Portuguese sausage, using a spice mix from NOH of Hawaii, which is also available for mail order online. It comes with a recipe that ends, "Easy, you can do this."
Should any of you procure some Portuguese sausage on the Mainland, we thought we'd offer up the most famous Island recipe for Portuguese Bean Soup—served up to thousands anually at the Punahou School Carnival. Let us know how yours turns out.
Punahou Carnival Portuguese Bean Soup
Punahou School sells 1,800 gallons of this soup in a weekend during its annual carnival. This recipe doesn't make quite so much.

1 lb. ham hocks
3 small cans kidney beans
2 large potatoes, cubed
3 large carrots, diced
1 medium onion, chopped
1 cup celery, chopped
1 16 oz. can crushed tomatoes
1 16 oz. can tomato sauce
1 lb. Portuguese sausage, diced or cubed
1 cup macaroni, uncooked
1 tsp. granulated garlic
1 tbsp. sugar
Salt and pepper to taste
1 medium head of cabbage, cubed
Boil ham hocks in 2 quarts water until tender (save stock). Cut meat from the bones. You can do this step a day ahead, refrigerating the stock, which also makes it easy to skim off the fat.
Bring ham stock to a boil and add the cut meat and all the remaining ingredients except the cabbage. Simmer for 1 hour, stirring frequently. If too thick, add a little water.
Add the cabbage, cook until tender. This recipe makes 10 large servings.