How to see North Shore, Oahu's massive winter waves for yourself
It's big surf season in Hawaii—here's what to know when you go wave watching.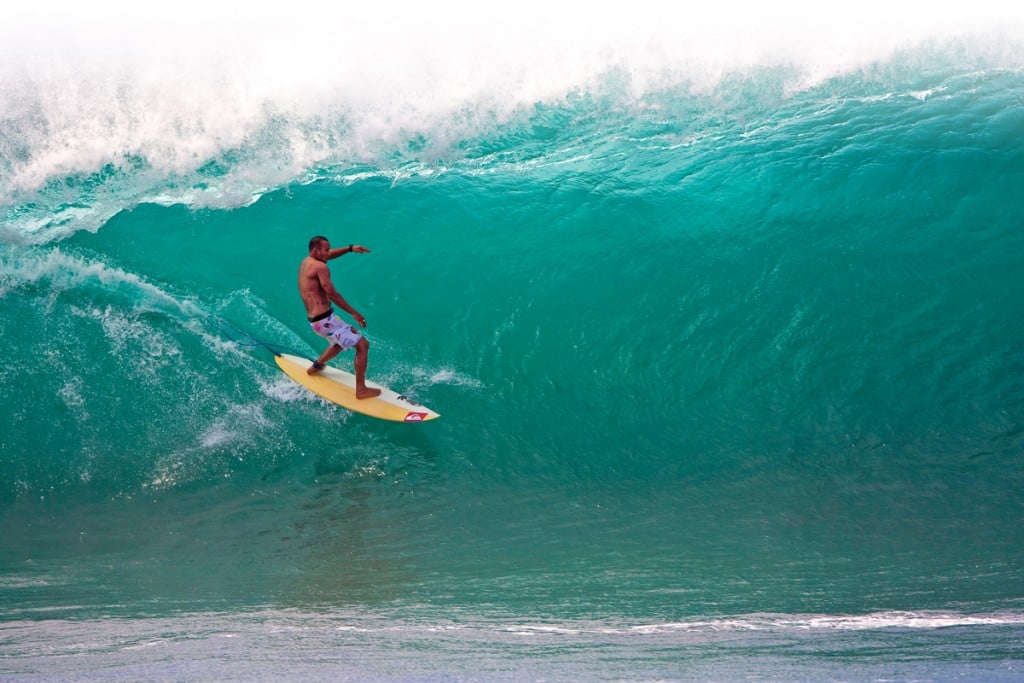 Winter in Hawaii means (slightly) cooler climes, breaching whales and, of course, big surf. Hundreds make the trek to the Oahu's North Shore to view the massive waves each year.
From November to February, North Shore waves average heights of 16 feet, measured from the top to bottom of a wave's "face"—the wave's shore-facing side. For about 20 days during this peak season, waves swell to 36 to 50 feet in size. On occasion, our winter waves have topped 100 feet.
Surfing these massive waves is a task best left to seasoned pros. It's awe-inspiring simply to watch Hawaii's winter surf and feel its power. Here are a few simple tips if you'd like to make a day trip to view the North Shore surf.
Go Early. Bring Binoculars.
Allow yourself two to three hours of travel time if driving from Honolulu, says Jim Howe, operations chief of the Ocean Safety and Lifeguard Services Division. During big-surf season, traffic regularly clogs both directions of Kamehameha Highway heading toward the North Shore.
Some stretches of Kamehameha Highway going north into Haleiwa offer a clear—yet distant—vantage point for seeing waves. Not quite a beachfront view, but when you're stuck in stop-and-go traffic, perfect for viewing with those binoculars.
Stay Updated.
Don't make the journey without knowing what's waiting for you at the end. The state-run website, www.hawaiibeachsafety.com, will tell you wave heights, wind speeds and other information for beaches across the state, updated every 10 minutes. There are even live video feeds of a handful of North Shore surf spots including Sunset Beach, Ehukai Beach (popularly known as Banzai Pipeline) and Waimea Bay.
Stay Dry.
What's the best distance from which to view big surf safely? Here's the rule: When surf is dangerously large, don't stand anywhere—sand, rock or road—that's wet. "If it's wet, it's in the ocean's path," says Howe. When the waves are 25 feet or more, officials keep people off the beach. You're safer watching from the road—if it's dry.
Where do Hawaii's winter waves come from?
Believe it or not, Hawaii's surf begins more than 3,500 miles west—in Japan. Japanese storm systems naturally move east across the Pacific Ocean, and in the winter the winds are stronger and storms approach closer to the Islands, explains Patrick Caldwell, liaison to the National Oceanic Atmospheric Administration's Ocean Data Center. But not too close, because if it's actually stormy in Hawaii, you get chop, not waves. Usually the storms stay 300 miles to 500 nautical miles out to sea, so we get both good weather and raging surf. El Niño conditions are also likely to push the storm track closer to Hawaii, making high surf more frequent beyond the winter months.
Other environmental conditions unique to the Islands—such as Hawaii's geographic positioning and the surrounding seabed, filled with peaks and valleys—also influence wave size and shape.
Bottom line: Hawaii's big surf is one of a kind.