How to See the North Shore's Sunflower Fields on Oahu
Starting July 11, you can tour the 20-acre sunflower field at Corteva Agriscience in Waialua.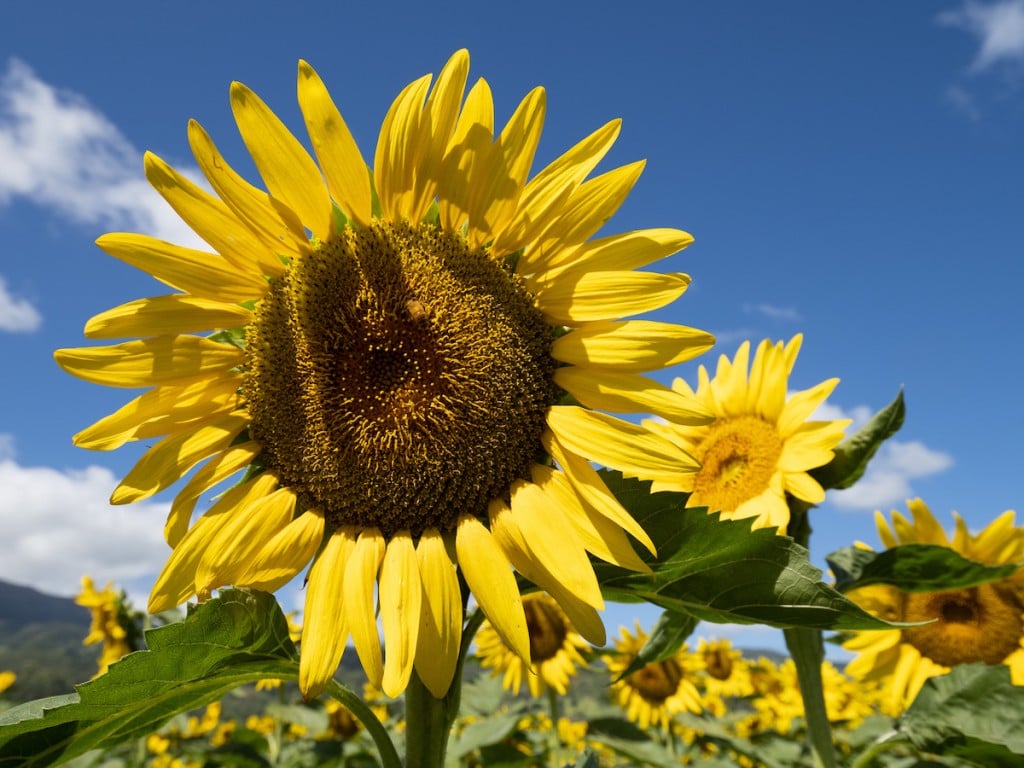 Get your phones out, sunflower season is back on Oahu's North Shore.
Starting today, July 11, the public can tour Corteva Agriscience's 20-acre sunflower field, which is located on the outskirts of sleepy Waialua town. Here you can snap that perfect selfie, find your new Instagram profile picture and see the inspiring sight of thousands of blooming sunflowers—literally, Corteva Agriscience representatives estimate 36,000 sunflowers per acre—framed by the epic Waianae Mountain Range.
If you're a sucker for sunnies, then you'll probably want to get to Waialua as soon as possible. Corteva Agriscience, which actually grows these sunflowers as a quality assurance test before sending these seeds to growers on the Mainland, will only be allowing public access to the farm until July 20. If you plan on driving in, bring $5 with you for the parking fee. Otherwise, visiting the fields is free.
Other things not to forget include sunscreen because this sunflower field is just that: sunny. You should also wear closed-toed shoes you don't mind getting dirty, a hat, long pants, water and, obviously, your camera or smartphone. Also, if you have a bee allergy, you should definitely consider bringing your EpiPen. Every sunflower you look at will likely have a bee on it or flying around it, so it's better to be safe than sorry.
Weekday tours will run from noon to 2 p.m.; weekend tours start earlier in the day, from 10 a.m. to 2 p.m. Expect a crowd: The last time Corteva Agriscience opened its fields up in 2017—it could not grow sunflowers in 2018 due to the heavy rains from Hurricane Lane—the flowers attracted more than 21,000 people in 12 days. (The event also raised more than $52,000 for local nonprofits in the North Shore area.) And if you want to catch the sunflowers and a sunset, there will be a special event on July 16, from 6 to 8 p.m., called Sunset with the Sunflowers, with a $15 price of admission.
All of the profits raised by the sunflower tours and activities will go toward local nonprofits. Students from Waialua High School sports teams and clubs will manage the parking costs in order to raise funds for their respective extracurricular programs.
Aside from sunflowers, the farm produces vegetables—corn, watermelon, zucchini—on 400 acres grown by local farmers contracted by Corteva.
For more information, visit Corteva's website and watch the sunflower safety video before visiting.