How To See the Puu Loa Petroglyphs at Hawaii Volcanoes National Park
The largest petroglyph field in Hawaii holds more than 23,000 carved images.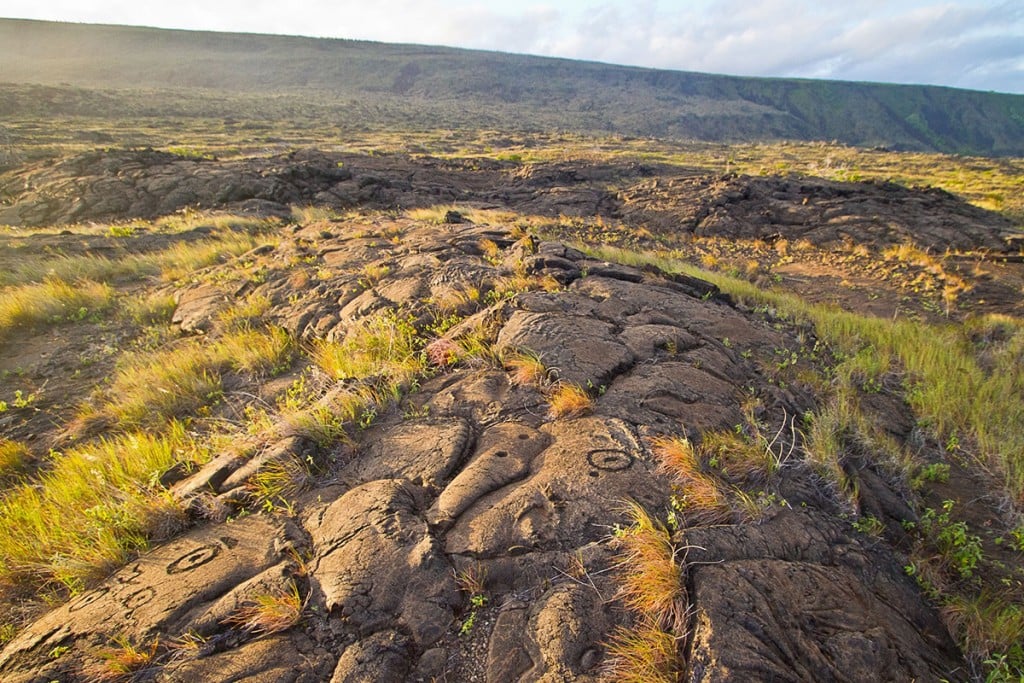 The Puu Loa Petroglyphs Trail is unlike any other trail in the Hawaiian Islands. A short hike across the lava leads to a sacred site full of amazing Hawaiian petroglyphs that will make you feel like you've stepped back in time.
How to get there
From the Hawaii Volcanoes National Park entrance, turn south on Crater Rim Drive. Follow Crater Rim Drive to Chain of Craters Road; turn down that road and drive 16 miles. There is a labeled parking lot adjacent to the petroglyphs trailhead (on the left if you're entering the park, on the right if you're coming back up Chain of Craters Road), past mile marker 16 (16.3 miles from the beginning of Chain of Craters Road).
What to bring: Hiking shoes, water, sunblock and a hat. Be prepared for rain.
Trail length: 1.4 miles round trip (about half an hour each way)
Recommended time of day: Late afternoon, as you're making your way back from the Holei Sea Arch at the end of Chain of Craters Road. Shadows from the afternoon sun make the petroglyphs stand out more.
Start at the trailhead marked by a sign and make your way across a rough lava rock landscape, keeping an eye out for the path worn in the rocks and the rock piles erected by park rangers that mark it. You're walking across a volcanic pressure dome, formed during an eruption about 550 years ago.
Before long, you'll come to the raised wooden boardwalk at the end of the hike. Take your time walking around the boardwalk and enjoy the views and history of the place.
What you'll see
Once on the boardwalk, you'll clearly see a landscape covered with images carved in stone (kii pohaku). Most of the images date back to the 13th through 15th centuries, and depict people, animals and symbols.
There are an estimated 23,000 of these images across the entire petroglyph field, along with motifs of circles and other geometric designs. Additional images include canoe sails, feathered capes and other cultural objects. More than anything else, though, you'll see small round holes everywhere.
What's the significance?
Puu Loa, or "Long Hill" also has an underlying meaning: "hill of long life."
These simple engravings reflect generations of history and the lives of thousands of Native Hawaiian people.
The little round puka (holes) make up about 85% of the petroglyphs at Puu Loa. A piko, or piece of a newborn baby's umbilical cord, was placed inside each of the puka, followed by blessings and prayers for a long and prosperous life. This was done to symbolically build a connection between the child and the ancestral land, and to mark the beginning of a new life full of potential.
Please remember that this is a sacred place and that the treasures here are worth preserving. Pick up after yourself and please do not step off the boardwalk, except on the designated trail. Please do not carve or scratch out your own petroglyphs, or build your own rock piles in this area. For more information about the petroglyphs, visit here.