How to see the sunflower fields on the North Shore (before they're gone)
These will definitely brighten up your day.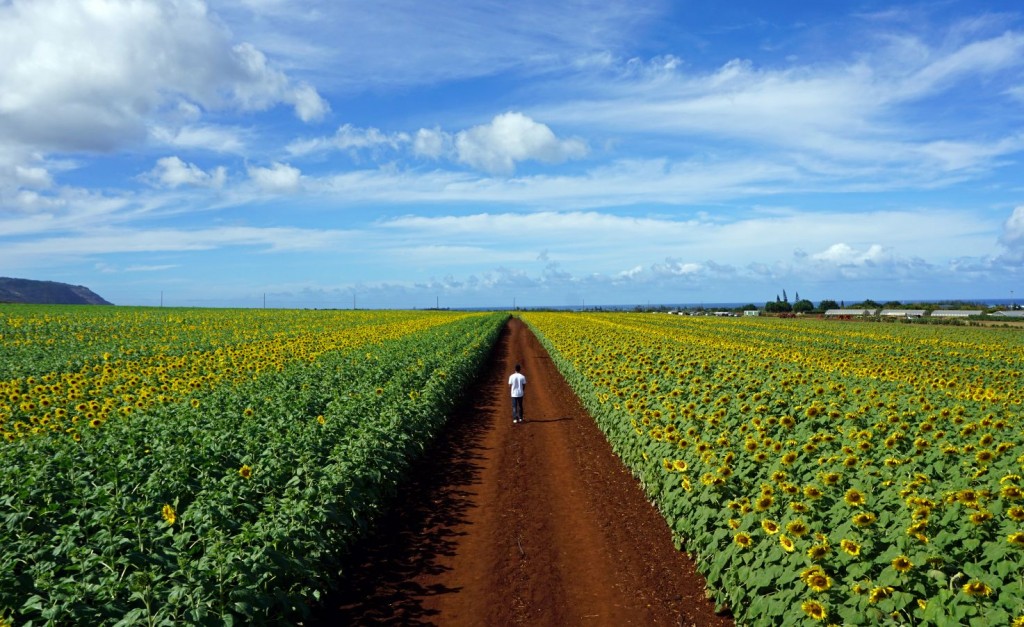 You read that right: There are sunflower fields on the North Shore of Oahu. Around this time each year, the Waialua Sunflowers bloom and add a new kind of sunshine to the island.
Like many others, it's something I had heard about here and there over the years, and up until recently, had seen a lot of thanks to social media. For a state synonymous with tropical fruits and flowers, it's quite a sight to see sprawling acreage of sunflowers framed by the majesty of the Waianae Mountain range.
In November and December, residents and visitors alike descend on these sunflowers, buzzing around them like the bees that pollinate them. On the day I showed up for a tour, I was one of about 400 people who came to check them out. A quick survey of the groups there and it was easy to see who the majority of them were—professional photographers and hobbyists staging creative photo shoots for Christmas cards, baby's first portraits, Senior Year photos and more.
The Waialua sunflowers are actually a test crop by Dupont Pioneer on private land for its parent seed corn that's grown on the mainland. Because of Hawaii's year-round growing conditions, the farmers here have the ability to ensure a 99.9% by surveying every single sunflower before next year's corn crops on the mainland. There are three main types of sunflowers cultivated here—oil type, confectionary and ornamentals.
By the time they start offering the tours, they've collected all the analytics they need and can open it for the public.
And, I use the word "tour" loosely—so do the organizers with Dupont Pioneer. After checking in during a designated time, they let you roam the fields (just don't pick the sunflowers) and, if you're so inspired, ask questions about the fields with the handful of farmers walking them.
To schedule a visit: Call (808) 637-0100 ext. 149, or email waialuasunflowers@pioneer.com.
If someone is unavailable to answer your call, they advise to leave a message stating your name, date of requested visit, a phone number to confirm and the number of people in your party.
The tours are free, but for each open date, Dupont Pioneer pairs with a local non-profit selling snacks, drinks and T-shirts for a good cause.
Additional tour dates may be added in the month of December (we'll keep you updated on that if they do), but until then, the sun is about to set on these fields.