How to Shop for Sentimental Hawaiian Jewelry on a Budget
With alluring price tags, Paradise Collection's timeless pieces make thoughtful Island gifts for the holidays—and any occasion.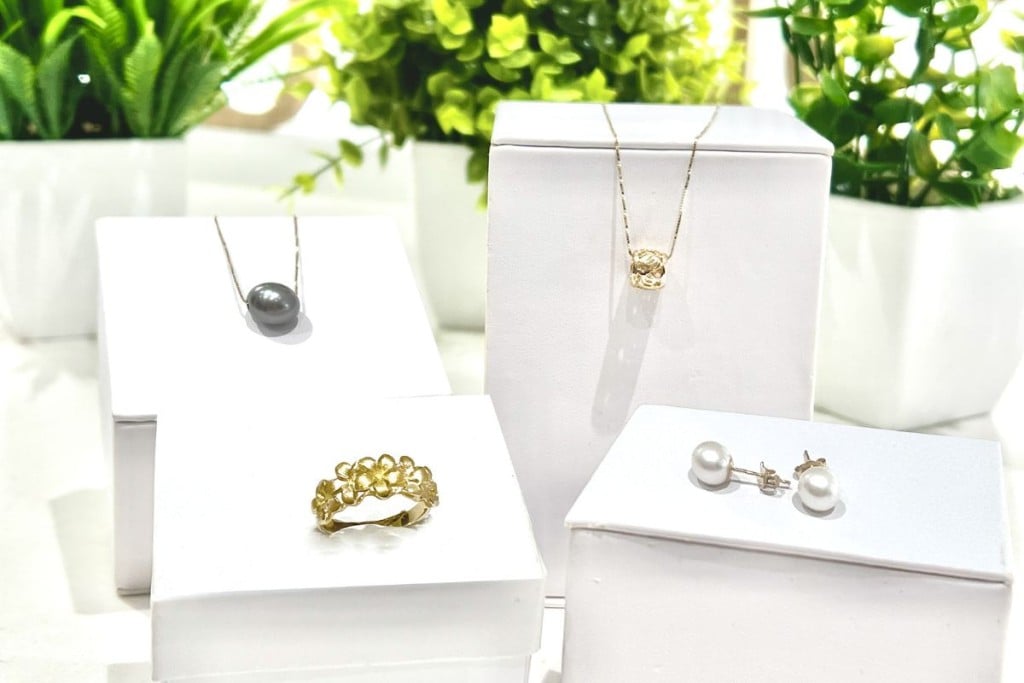 Jewelry is an enduring symbol of love and joy, commemorating life's extraordinary moments.
Pieces from Hawaiʻi add to that sentiment by ensuring a part of the Islands is always with you. With designs featuring lovely plumeria and playful honu, unwrapping Island-inspired jewelry certainly makes the holidays sparkly and bright.
And while jewelry is a timeless expression of love, it can be difficult to find pieces that actually stand the test of time—and at affordable prices.
Island jeweler Paradise Collection crafts its distinctly Hawaiʻi-inspired jewelry to last generations, with hopes that you'll pass down the pieces to your children and grandchildren. And the local company offers elegant items for every price point. So, with its affordable jewelry, you don't have to spend a lot to feel lavish. Here's how you can save on sentimental pieces.
Shop the sale section
From silver and gold to jade and traditional Hawaiian heirlooms, you'll find hard-to-beat deals on stunning pieces in every category in Paradise Collection's sale and clearance section. There's an exciting array of jewelry under $50 and $100, with some items marked down as much as 50%. You can shop for colorful statement pieces like a playful pair of silver and rainbow opal bird-of-paradise earrings for $45.50 or sterling silver and genuine Larimar plumeria earrings for $88. Or stock on staples like a sleek silver bangle with a plumeria design for $60 along with a detailed sterling silver plumeria bangle for $91. Along with Paradise Collection's beautiful flora designs, ocean lovers will find unique and detailed jewelry inspired by the sea. The two-tone sterling silver rose honu features a hibiscus engraving and the men's sterling silver Hawaiian koa wood fish hook pendant has double-sided engravings. With intricate designs and classic Hawaiʻi motifs, you certainly won't feel like you're sacrificing style for price.
Check the deals of the week
Paradise Collection also offers deals of the week with savings of up to 40% on select items. For your sweetheart, there's a sterling silver Hawaiian kuʻuipo bangle as well as a sterling silver Koa wood honu pendant. For those that love gems, Paradise Collection features a variety of semi-precious stones in its pieces like a yellow citrine plumeria pendant. You'll also find luxe items such as a pair of sleek 14-karat yellow gold chocolate pearl stud earrings as well as an elegant Tahitian pearl necklace on a 14-karat gold box chain and a pair of timeless button pearl stud earrings. And you can score all of these pieces at a deal! Just make sure to check the site weekly to see what's been added to the section.
Earn perks as a loyal shopper
The local jeweler takes care of its customer ʻohana, providing exclusive deals—sometimes up to 40% off on select jewelry—for returning shoppers. It's a tempting incentive and the company's way of saying mahalo to loyal customers. Returning shoppers can score amazing deals, and sometimes on an entire collection. Loyal shoppers can snag a pair of delicate gold tricolor plumeria earrings and a matching necklace pendant. Or, if you're in need of some luck, add the 14-karat yellow gold Jade pendant to your cart. The Chinese symbol for good fortune is at the center. For extra prosperity, add the lucky fortune earrings. Like the show-stopping Jade pendant, Paradise Collection offers plenty of one-of-a-kind pieces that feature unique materials, including the volcanic stone Larimar. The sky-blue color pops in the eternity cuff bangle.

For more information and to shop Hawaiian heirloom jewelry, visit paradisecollection.com.