How to Spend One Extra Day on Oʻahu
With Hilton properties in Hawaiʻi, staying four nights means getting the fifth one free, so here are a few ways you can enjoy an extra day in paradise.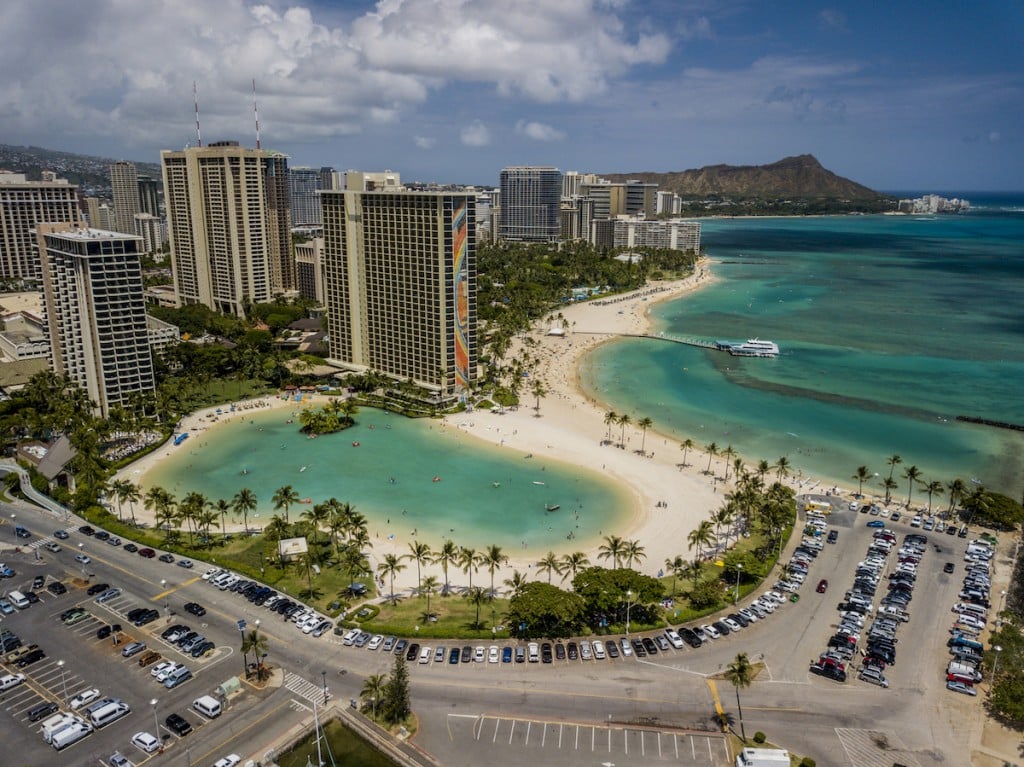 In ʻōlelo Hawaiʻi (Hawaiian language) hana hou means "to do again," and is often yelled by concertgoers who aren't quite ready for a show to end. And all of the Hilton properties in Hawaiʻi, including the Hilton Hawaiian Village Waikīkī Beach Resort and Embassy Suites by Hilton Waikīkī Beach Walk on Oʻahu, have taken this idea of hana hou to heart, giving guests who stay four nights an extra night free. (Click here for the deal.)
So this begs the question: How do you spend one extra day on Oʻahu?
There's so much to do, see and eat! Here are a few adventures you might have missed—and none of them require reservations or preplanning.
Holoholo around Kaimukī
One of Honolulu's trendiest little boroughs, it's easy to spend the morning—or half a day—on the walkable streets of Kaimukī. The urban hood is a mix of vintage Honolulu storefronts like the Crack Seed Store (1156 Koko Head Ave.), which has been selling local-style crack seed snacks for over 40 years, and new-school-cool shops like The Public Pet (3422 Waiʻalae Ave.), which carries fashion-forward attire designed for cats and dogs. Just remember that to holoholo means to go out for pleasure, so whether you're walking to get some freshly baked bread at Breadshop (3408 Waiʻalae Ave. #104), a quick and healthy lunch at Kaimukī Suprette (3458 Waiʻalae Ave.) or a fresh cut at Golden Hawaiʻi Barbershop (3472 Waiʻalae Ave.), take your time and enjoy the neighborhood.
Grab a Biki and Go (Anywhere)
Setting up its first bikes in Waikīkī in 2017, Biki, a nonprofit bike sharing organization, has grown at an extraordinary rate, and its iconic aqua-blue bikes can now be seen throughout Honolulu. Riding with Biki means you won't have to deal with walking in the hot Hawaiian sun, or driving a rental car through the city's often crowded streets. And with so many rental racks out there, you won't have to look far to find a Biki for yourself. Renting a Biki is also stress-free, with multiple options to accommodate your schedule; for example, you can choose a one-way, 30-minute rental for $4 as well as a $25, 300-minute rental. If you're feeling up to it, cycling up and around Diamond Head Road offers incredible views—and a workout.
SEE MORE: Hawaiʻi's Bike Sharing Program, Biki, Continues to Grow in 2020
Hike the Iconic Diamond Head Crater
If you've been staying in Waikīkī, there's a pretty good chance that you've gazed up dreamily at Lēʻahi, more commonly known as Diamond Head, flaunting its epic ridges and, after a good rain, lush foliage. The tuff cone formed 300,000 years ago when the southern section of the Koʻolau Range erupted, and the landmark has since been used as a vantage point by both ancient Hawaiians and the U.S. government to spot enemy naval vessels. For visitors, Lēʻahi, which translates to "brow of the tuna" in ʻōlelo Hawaiʻi, also serves as a vantage point for those looking to reminisce about their trip. From the top of Diamond Head Crater, you'll get a panoramic view of Waikīkī and Honolulu.
SEE MORE: How to Hike Oʻahu's Iconic Diamond Head Crater
Find the Perfect Souvenir at North Shore Soap Factory
An extra day means you can venture to Oʻahu's North Shore, about a 45-minute drive from Waikīkī. And while you're there, stop by the North Shore Soap Factory (67-106 Kealohanui St.), located in the old Waialua Sugar Mill. This locally owned shop produces vibrant blocks of soap made with ingredients you think of when visiting the Islands, from kukui and macadamia nut to plumeria and mango. If you want a firsthand look at how these blocks of soap come together, the soap factory offers tours available Tuesdays through Fridays for $17 per person.
SEE MORE: Find Out This Popular Soap is Made on Oʻahu's North Shore
Take the Dreamiest Vacation Pictures at Hoʻomaluhia Botanical Garden
Make sure your friends, and everyone who follows you on social media, know that you're on the tropical island vacation of your—and their—dreams by visiting the Hoʻomaluhia Botanical Garden (45-680 Luluku Road). Here you can snap your next Instagram profile picture with the epic Koʻolau Mountains in the background. And don't stop at the entrance to get the same shot everyone else has of the garden's driveway; venture farther inside to find more scenic views of the garden, like at the top of Kilolani Mauka—the highest point of the garden—which sports panoramic views.
SEE MORE: There's More to Hoʻomaluhia Botanical Garden Than Its Instagrammable Entrance
Actually Enjoy the Hotel
What always happens on vacation is you spend so much time away from your hotel, you never really get to enjoy it. The Hilton Hawaiian Village sprawls over 22 acres right on the ocean. Spend your last day lounging at one of the resort's five pools—which includes the longest water slide in Waikīkī—doing stand-up paddle yoga in its saltwater lagoon or getting a Hawaiian lomilomi massage from Mandara Spa. You'll probably wonder why you waited so long to do this.