How voyaging on a Hawaiian canoe in the Atlantic changed my understanding of sustainability
A crewmember shares her experience on the Hokulea, as it sails around the world on the Malama Honua Worldwide Voyage.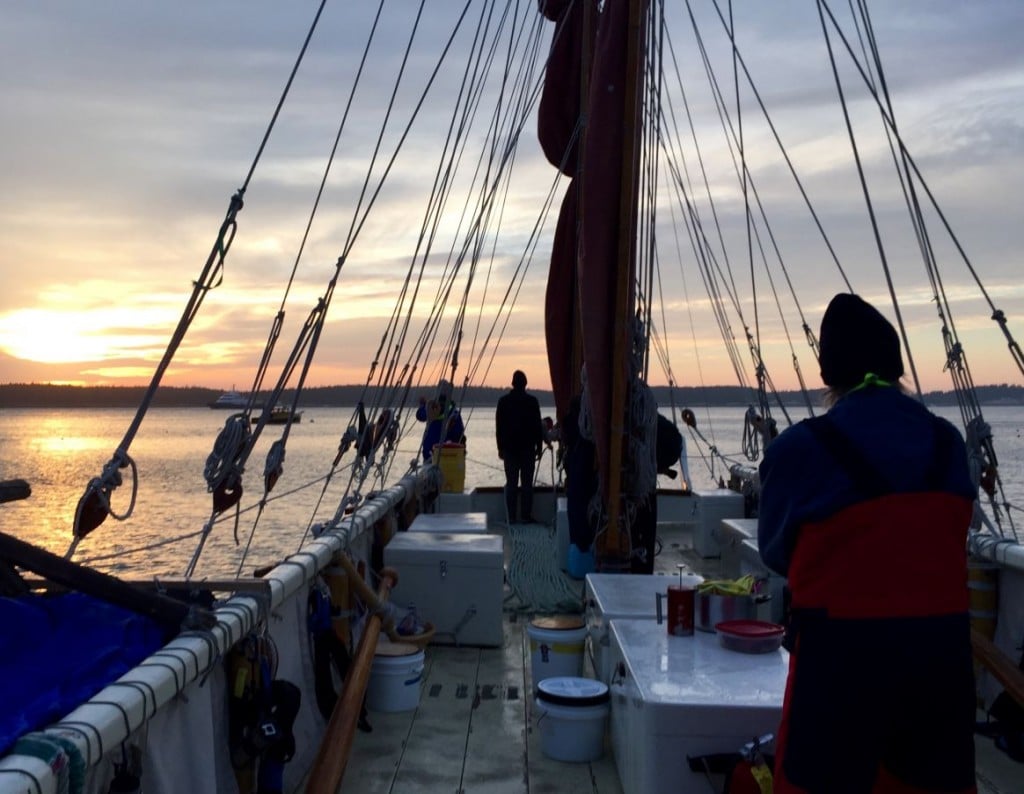 This past summer, I was a crewmember on the Hawaiian double-hulled canoe, Hokulea, as she sails around the world on the Malama Honua Worldwide Voyage. While deep-sea travel and navigating by traditional methods are Hokulea's primary raison d'être, this voyage is equally focused on its mission: malama honua, which means literally to care for the earth. After several weeks into the trip, I gained a profound new understanding of what sustainability means.
First, imagine standing on the deck of the Hokulea. The size of the waa (pronounced VAH-AH), the Hawaiian word for canoe, is 62 feet by 20 feet. The platform between the two hulls is considerably smaller—more like 40 feet by 10 feet. This is the deck where the 12 members of the crew cook, eat, stand watch and spend their time when they are not sleeping on their 5 foot 9 inch foam pads that are lined up, head to foot, in each of the hulls. Food, water and supplies that sometimes have to last as long as two months are all stored in the bottom of the hulls, below the sleeping spaces.
A deep-sea voyaging canoe, Hokulea was built to sail across vast oceans, and, on these voyages, there is nothing to see but water, sometimes for days, often for weeks. Crewmembers estimate the passage of time by watching the sun as it moves across the sky and, at night, the navigator looks to the stars to make sure the canoe is still on course.
This was only partially my experience as a crewmember. Hokulea is currently two-thirds of the way through this voyage, having crossed the Pacific, Indian and Atlantic oceans to arrive at the East Coast of the United States. The deep sea legs of the journey are over for now, and won't resume again until the waa reaches the West Coast early next year and makes her way back across the Pacific Ocean and home to Hawaii.
As it travels up and down the East Coast, Hokulea is stopping at as many ports as possible to share her mission of malama honua. Our crew spent five weeks on the waa as we made our way up the New England coast, starting at Block Island, off the coast of Rhode Island, and ending our leg at Mount Desert Island in Maine, stopping in port every night. The canoe became our home, and even while in port, we spent most of our time on board to eat, sleep and hang out. We gave canoe tours to thousands of visitors, some of whom drove hundreds of miles to see the waa, and many of whom have been tracking the voyage since its inception. Unlike the sailors on the deep sea legs, we had the luxuries of ice, fresh food, bathrooms with showers and toilets, no night watches, and occasionally even Wi-Fi. But we did have 5 a.m. crew calls and sailed in open ocean from one port to the next.
Malama honua means protecting the environment and managing resources so that future generations can thrive as we have, with access to clean oceans, drinking water that doesn't come out of bottles, and a healthy place to live. I already do what I can to be sustainable. I have solar panels on my house, I grow food, I eat organically and low off the food chain, I reuse and recycle.
In our daily lives at home, we have constant demands on our time, on our hard-earned money, on trying to stay relevant in a society that has been swept up in a social media craze of instant gratification. On the canoe, there is none of this. Once we set the sails, cook, eat, wash dishes and put them away again, there often isn't a lot to do unless you're on watch and it is your turn to steer. With space on the waa being as limited as it is, crewmembers are allowed one bag each, and everything you bring must fit in your sleeping area.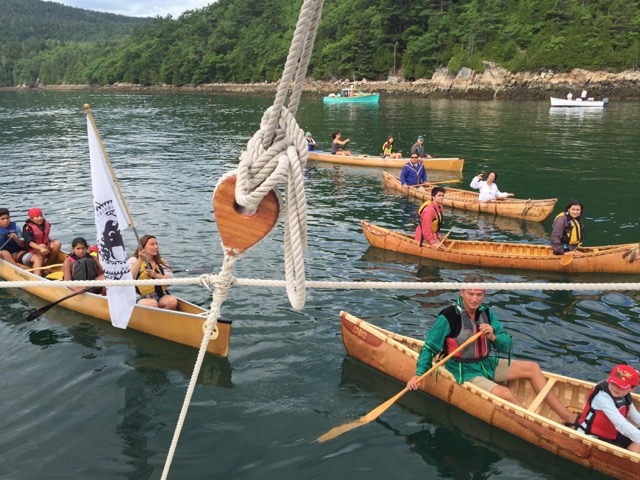 So what was my epiphany? That I didn't really need more than my one bag, not only to survive, but also to flourish. While at sea, social media becomes irrelevant, as does the need to buy things or worry about what I'm going to do tomorrow. Survival and happiness are not based on the constant need to consume; they are based on being able to appreciate what we already have. Granted, each one of us, at least in part, was selected because of our own, individual connection to the ocean, whether as canoe paddlers, sailors, fishermen, surfers, swimmers, divers or whatever our passion may be. When we are in tune with the environment, be it the ocean, the mountains or even our back yards, we realize that we really don't need more, and we begin to live sustainably.
The second part of my new consciousness was the importance of my fellow crewmembers. At sea, each person's life depends on everyone else. Among other things, the captain is responsible for safely piloting the canoe and for the well-being of the crew. We all had the deepest respect for our captain, Bruce Blankenfeld, and we worked together to carry out his orders swiftly and efficiently. Everyone is a volunteer on Hokulea, and while most of the eight men and four women on our leg were veteran sailors, we all learned and grew together to take good care of the waa and each other. We became family, and shared our enthusiasm and aloha with everyone we met along the way. Whether or not this voyage changes lives, we know that every visitor who boarded Hokulea felt her magic.
Voyaging on Hokulea is literally living on an island, where we are dependent on each other and must manage our resources responsibly. The waa is the metaphor for how we must approach living together and sustainably at home in our Hawaiian Islands. It is the blueprint for how to survive and sustain Island Earth, a term coined by astronaut Lacy Veach, who from outer space saw our beautiful planet floating in the middle of the universe. Everything begins with a dream. Building Hokulea, a modern replica of an ancient double-hulled sailing canoe to sail from Hawaii to Tahiti by traditional navigation in 1976 was a dream. Sailing this canoe around the world was an even bigger dream. Teaching the world to live sustainably may be the biggest dream of all.
It was a deep honor to be chosen to be a Hokulea crewmember and to become part of the legacy that has elevated the self-esteem of my Native Hawaiian community and the pride of the entire Hawaii community, and this experience has enriched my life. There is much to be done to make the world a better place to live, for now and for generations to come. I believe that the mana (spiritual power) that Hokulea carries from the thousands and thousands of well-wishers who have touched her and that she is now sharing with the rest of the world can help to awaken us all to the dreams and possibilities that are well within our reach.