Hula at Kilauea volcano a "chicken skin" experience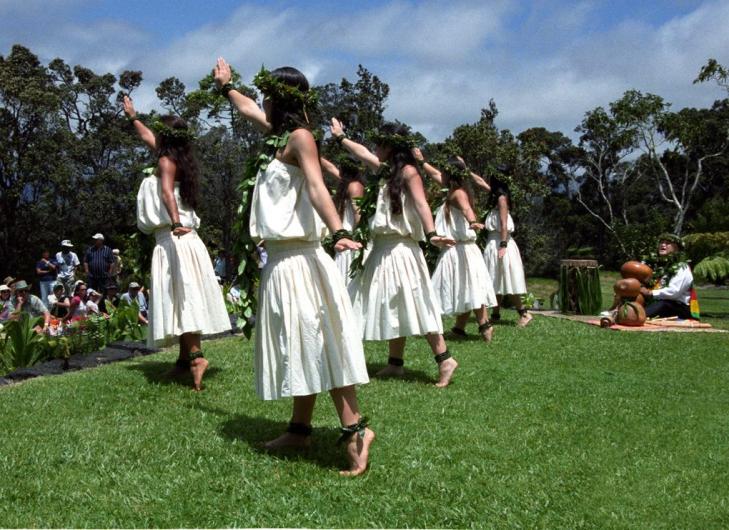 Here in the Islands, we don't get "goose bumps" when we experience strong emotions about something. We get "chicken skin."
Want to get some totally Hawaiian-style chicken skin?
Go to Hawaii Volcanoes National Park and watch hula performed on a stone and earth mound surrounded by native forest, while behind you a volcanic crater sends a giant plume of steam and ash into the sky. You'll feel like you're standing between myth and reality.
The Volcano Art Center's Na Mea Hawaii Hula Kahiko series has been staging performances by Hawaii-based hula halau (troupes) several times a year since 1980. A quarter century later, it's still one of the most amazing places in the Islands to see hula kahiko (ancient hula).
Not only is the setting beautiful, but the significance of being mere yards away from Halemaumau crater—the traditional home of Hawaiian fire goddess Pele—always seems to give the dancers and chanters extra mana (spiritual power).
I've seen hula halau dance here numerous times, but it never gets old. Dancers adorned with green ferns from the nearby forest. Little keiki (children) copying the moves of their older hula sisters and brothers. Kumu hula (hula instructors) chanting the ancient stories of gods and the power of the forest.
Definitely the stuff of chicken skin.
If you're on the Big Island on August 30, don't miss the final Na Mea Hawaii Hula Kahiko performance of the year. Halau Ha'a Kea o Akala, a hula troupe from Hilo, will dance. The performance happens from 10 to 11 a.m. at the Volcano Art Center's hula pa (platform) near the park's visitor center.
Performances are free. But you'll still have to pay the admission fee to get into Hawaii Volcanoes National Park—$10 per car, good for a week of visits.
Bring a mat or towel to sit on, as well as sunscreen and a raincoat. You never know what kind of weather Pele has in store for Kilauea volcano's summit.
Also save some time for demonstrations of hula implements and traditional Hawaii weapons, happening at the Volcano Art Center before and after performances.
For more information, call (808) 967-8222, or visit www.volcanoartcenter.org.