Hula at Kilauea volcano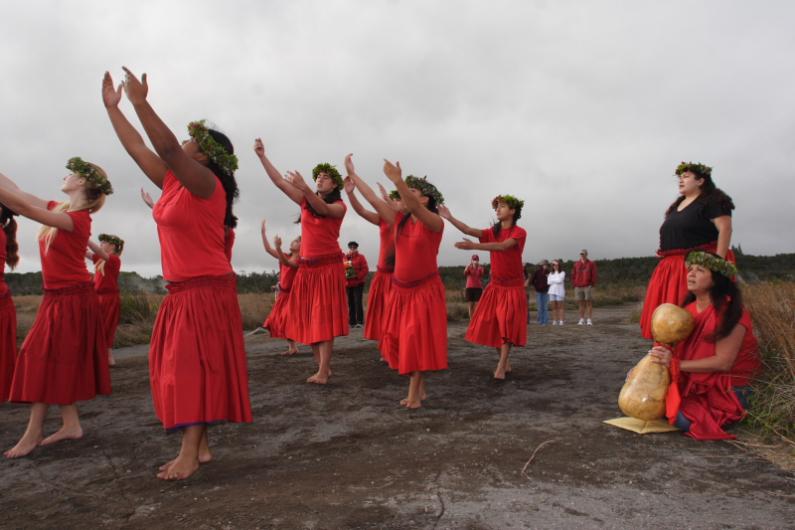 The Merrie Monarch Hula Festival—for many practitioners, the World Series of hula—opened on the Big Island this weekend.
Hula troupes from around the state and worldwide are still arriving daily in Hilo, to compete.
Yesterday, Hilo's Civic Auditorium saw the festival's traditional opening hoolaulea (celebration).
But yesterday afternoon, our friends at Kilauea, photographers Stephen and Donna O'Meara, shot this photo of Halau Hula Keolu Makani O Mauna Loa.
This halau—as hula troupes are called in Hawaii—made a pilgrimage to Kilauea caldera to pay respect, by dancing for volcano fire goddess Pele.
Traditionally, this halau would go all the way to 300-foot-deep Halemaumau crater to dance—often right on its edge. That's not possible this year. Conditions are uncertain and hazardous. The crater's erupting with steam and ash, ejecting toxic fumes and occasional rocks and lava particles.
Hawaii Volcanoes National Park rangers escorted the dancers to this spot, called Steaming Bluff, within sight of Halemaumau.
Other dancers are expected to congregate both at Steaming Bluff and also at the spot where the current Kilauea flow pours molten lava into the sea.
We'll post winners once hula competition begins on Thursday night. All three nights of competition will be streamed live on TheHawaiiChannel.com.
A schedule of Merrie Monarch Festival events is here.