If you only have half a day in Hilo
There's a lot to get into in this quaint Hawaii Island town, even if you only have five hours to spare.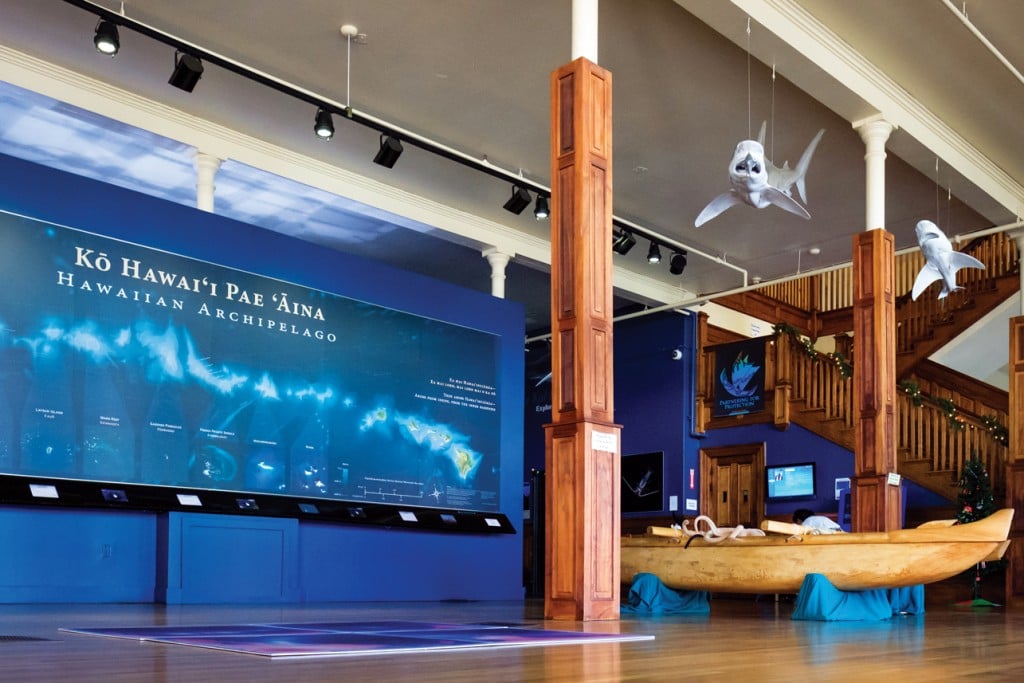 Hilo surprised me. I've flown into Hilo a few times in the past and driven by it on a circle island road trip, but this is my first time actually visiting the third largest city in the state.
What I didn't realize was that there is so much to do in Hilo and I am unprepared for this. I want to see it all, but my time is limited.
With only a half day to spare before catching a flight back to Honolulu, I stop at Ken's House of Pancakes for breakfast, place my order at Two Ladies Kitchen for two dozen strawberry mochi (to take interisland on the plane with me) then begin my journey to the walkable bayfront neighborhood of Downtown Hilo, and manage to squeeze in six notable spots.
11:30 a.m.
After parking on one of Hilo's side streets, I walk to the independently owned bookstore Basically Books, which specializes in current and classic books about Hawaii—fiction, history, language, mythology, biographies, children's books and travel guides. The store also claims to have the largest Hawaiian music selection on the island, and I wouldn't doubt it based on how much I see there is to choose from.
If you're looking for souvenirs or gifts, it's a cinch here, whether you're looking for a book, a Merrie Monarch Festival DVD or a coffee cup. After spending nearly an hour in the store, I walk out with a King Kalakaua notebook, Old Hawaii greeting cards and art—a print of red iiwi birds (scarlet Hawaiian honey creepers) on an ohia lehua tree, back dropped by a waterfall-filled valley.
Open Monday through Friday, 10 a.m. to 6 p.m.; Saturday, 10 a.m. to 5 p.m.; and Sunday, 11 a.m. to 3 p.m. 160 Kamehameha Ave., (808) 961-0144, basicallybooks.com.
12:45 p.m.
Just a two-minute walk away, I visit Mokupapapa Discovery Center next, which is free and open to the public. The center was established in 2013 to help visitors learn more about the Northwestern Hawaiian Islands of the Papahanaumokuakea Marine National Monument. Since the conservation area isn't public, this is the best place to learn about the 582,578 square miles of Pacific Ocean (recently expanded by President Obama), its 10 islands, atolls and shoal, extensive coral reefs and various wildlife and marine species.
The space is large and the first thing I notice is the central visual display, a map of the entire Hawaiian archipelago. Below it are multiple touchscreen tablets that allow you to interact with the content. Tapping through the pages, I find it packed with information on the history, culture, archaeology and geography for each and every location. There are also photos, maps and illustrations about each place I've never seen. Around the room are a few more displays, including a 3,500 gallon saltwater aquarium, but this was the highlight for me because it gave me a visual guide to understanding the breadth of the monument.
Open Tuesday through Saturday, 9 a.m. to 4 p.m. 76 Kamehameha Ave., (808) 933-8180, papahanaumokuakea.gov/education/center.html.
1:30 p.m.
As I walk out, I see a sign for The Locavore Store, and its window-painted "all-local grocer" tagline talks me into taking a peek. It's a cute store with shelves of tomatoes, avocados, greens and herbs, but there are also local honeys, jams and jellies, macadamia nut toffee and butter and, my favorite, chocolate. The store originated from area farmers markets and transitioned to brick-and-mortar in 2013 in Pahoa until lava threatened their building and the company made the move to Hilo in 2014. I'm happy to have come across this store, knowing it continues to support local companies out of its bayfront location with products right from the farms.
Open Monday through Friday, 9 a.m. to 6 p.m.; Saturday 9 a.m. to 4 p.m. 60 Kamehameha Ave., (808) 965-2372, bigislandlocavorestore.com.
2 p.m.
A short block away, I stop inside the Pacific Tsunami Museum. Devastating tsunamis have occurred in the Hawaiian Islands, most notably on Hawaii Island within the past century: On April 1, 1946, an Alaskan earthquake sent a succession of waves to Hilo and Laupahoehoe, causing $26 million in damages and killing 159 people. On May 23, 1960, an 8.3-magnitude earthquake from Chile caused $24 million in damage and killed 61 people, tearing Downtown Hilo apart. A Pacific-wide tsunami generated a maximum wave height of 35 feet and Hilo once again suffered heavy damages.
A large collection of photos, first-person accounts on video and in writing, artifacts and maps help tell the stories of the tsunamis that occurred in the Hawaiian Islands. There's also a section devoted to the March 11, 2011 tsunami that happened in Japan, to further educate its visitors about the signs and effects of this natural disaster. As someone who has visited and volunteered in Japan following the 2011 tsunami, I'm very emotionally moved by the exhibits.
Open Tuesday through Saturday, 10 a.m. to 4 p.m. 130 Kamehameha Ave., (808) 935-0926, tsunami.org.
3:30 p.m.
Familiar with the work of local photographers, Tom Kualii and Bruce Omori, who operate Extreme Exposure art gallery down the street, it came as no surprise to me that it would be filled with large, fine art masterpieces. The majority subject: Lava. This is Hawaii Island after all, and there are constant reminders of Madame Pele all around, such as the five volcanoes that make up this island. Whether you are able to make the trip to see the lava yourself or not, these jaw-dropping photos will make you feel like you were there.
Open Monday through Saturday, 10 a.m. to 6 p.m.; Sunday 11 a.m. to 5 p.m. Hours may vary, so call ahead. 224 Kamehameha Ave., (808) 933-8008, extremeexposure.com.
4 p.m.
Hilo has quite a few restaurants that are turning heads, including Moon and Turtle, Café 100 and Hilo Bay Café, but I chose Café Pesto. It's conveniently located nearby and has built a strong reputation for quality food, earning awards through the years. I chose the grilled chicken & Hamakua mushroom risotto after much deliberation. It's hibachi chicken breast and chicken confit seared over a creamy saffron Arborio rice and it is as delicious as it sounds. You can also choose from several pizzas, calzones, salads and pastas.
Open Sunday through Thursday, 11 a.m. to 9 p.m.; Friday and Saturday, 11 a.m. to 10 p.m. 308 Kamehameha Ave., (808) 969-6640, cafepesto.com.