In A Pickle: Seasonal produce inspires Maui Preserved's homegrown, homestyle pickling and preserving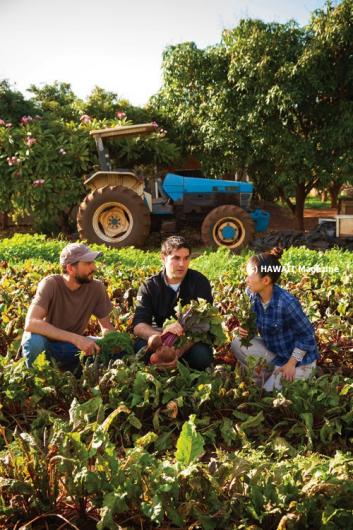 Splat!
Drops of aromatic pineapple juice land on my notebook in the middle of a chat with Anthony LaBua-Keiser, owner of Maui Preserved. We're standing in the kitchen of the company's Upcountry Maui cannery, as part-timer Gerit Williams individually cores 90 Maui-grown pineapples with an industrial pineapple corer nearby.
"Sorry," says Williams. "That was a juicy one."
LaBua-Keiser slices the pineapple into spears with machine-like speed—a sticky process—and offers me some. It's sweet, delicious and perfect. Under his guidance, however, it's bound for even loftier palate-pleasing heights as the main ingredient in jars of Maui Preserved's Sweet & Spicy Maui Pineapple. There, steeped in light Maui-grown cane-sugar syrup with the subtle punch of a fresh, Hawaiian chili pepper, the fruit's sugary flavor changes in complexity, awakening different taste buds. The spicy-sweet tang makes it one of Maui Preserved's top-selling products.
LaBua-Keiser and his wife, Maleta Van Loan, started Maui Preserved in 2010, hoping to craft pantry items showcasing the taste of Maui-grown produce at its seasonal peak. Overcome by the island's country charms while on honeymoon, the couple departed culinary careers and lives in their native New York City to make their home in the Upcountry Maui hamlet of Haiku.
"I wrote out a business plan on the plane [back to New York] and we moved out here six months later," says LaBua-Keiser. Four years later, the couple has a cozy life in Haiku, a smiling, cooing baby girl and a bustling boutique food business earning considerable accolades for its flavorful, handcrafted pickles, preserves, purées, condiments and other specialty-food items, and devotion to using as much produce from its home island as possible.
Maui Preserved has a simple business model summed up in the company's name.
"We wanted to create a way to preserve produce … to help bridge the gap between farmers and consumers," says LaBua-Keiser.
Pop open a jar or bottle of almost anything Maui Preserved produces—from Habanero and Thai-chile hot sauces to Maui-onion-pepper jam and vanilla-bean powder to pickled green beans, beets, onions and jalapeños—and most of what's inside is Maui-grown. "I want people to feel like they're eating a Maui pineapple when they're not on Maui."
LaBua-Keiser pours Maui-grown cane-sugar syrup into jars of Sweet & Spicy Pineapple. Photo: Sue Hudelson
LaBua-Keiser says he gained a deeper respect for farmers while working on a small lettuce farm shortly after moving to Maui. Maui Preserved's partnerships with local farmers has made that respect mutual.
"The farmers appreciate our dedication and they love growing something people love to eat," Labua-Keiser says.
Maui Preserved buys its peppers from a farm in Hana on Maui's remote east side; its onions and strawberries from the Upcountry district of Kula; and its pineapples from Maui Gold Pineapple Co. in Haliimaile, just up the road from Maui Preserved's kitchen. Armed with solid culinary backgrounds—both are trained chefs—LaBua-Keiser and Van Loan find brainstorming new products to make Maui produce shine on pantry shelves as easy as plucking ripe Hawaiian chili pepper for harvest.
One of Maui Preserved's most unique products is its pickled pohole (fiddlehead fern), which it buys from Hana Herbs & Flowers. Also known as hoio, pohole has deep roots in Hawaii cuisine, particularly in the Hawaiian, Filipino and Japanese cultures. Its long, slender stem topped by a leafy frond resembling the scroll of a fiddle, pohole is often found growing wild in thick groves near the active streams of damp forests. Labua-Keiser calls pohole "the asparagus of Hawaii." Maui Preserved pickles it with apple-cider vinegar, sea salt and a hint of lavender, creating a tasty, crunchy snack.
My favorite Maui Preserved pickling creation, however, is its bright, crisp dill-pickled beets. The aromatic Kula-grown organic dill carpet-bombs my taste buds. Every bite reminds me of summers with my grandma pickling beets in mason jars.
Later in the morning, we drive up the weathered, red-dirt-crusted road to Haliimaile in LaBua-Keiser's grey Mini Cooper to pick up freshly harvested pineapple from Maui Gold.
"You sure you can fit these in here?" asks the woman at the farm, eying his smallish ride. (He usually takes his pickup truck.)
"Oh, yeah. I've fit 20 boxes," he says. Today's pineapple pickup is just 10 boxes.
Back at the Maui Preserved kitchen, LaBua-Keiser and Williams unload the pineapple and begin coring again. Members of the company's smallish crew are learned multi-taskers. While Williams cores, LaBua-Keiser prepares syrup for Sweet & Spicy Pineapple, then finishes labeling a batch of Hawaiian-chili-pepper- and Maui-onion-infused Hot Hot Sauce he crafted the previous night.
High on a shelf, a dehydrator bakes a batch of ground vanilla beans. The heady aroma of vanilla fills my nose as LaBua-Keiser pulls a sheet of it from the dehydrator, blends it into a fine powder and carefully pours it into small glass jars. Another shipment is ready.
While LaBua-Keiser and Van Loan still make the rounds at the Maui farmers markets where they first began selling Maui Preserved products—it remains their favorite place to talk story with customers and have them try new products—they've also steadily grown the number of retail outlets stocking their brand statewide. The company's next goal is to expand into Mainland West Coast markets and sell food-service packs to local restaurants.
"We don't feel like we're reinventing anything," he says, eyeing a stock of freshly pickled beets he needs to tackle next. "It's just old farm techniques."