In Hanapepe, a new Japanese restaurant and retail shop that will leave you smitten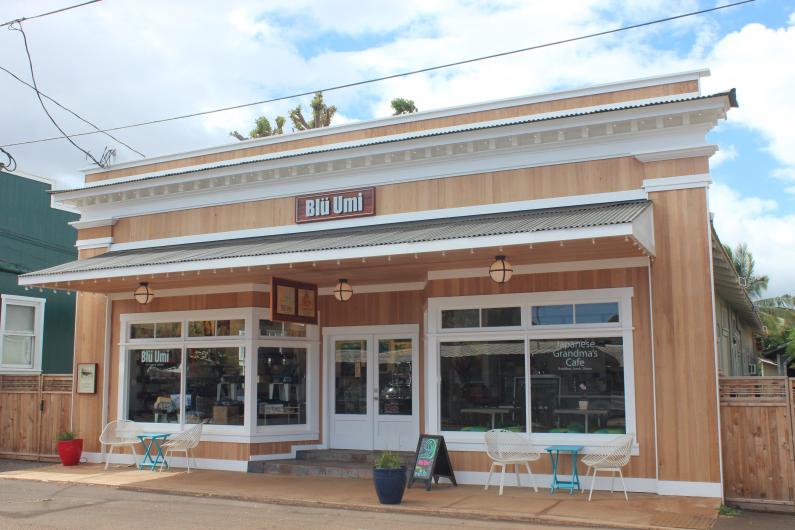 Following a first visit to Kauai's astounding Waimea Canyon, Keiko Napier stopped in the tiny town of Hanapepe. She was smitten. With its art galleries, spice shop and out-of-print bookstore lined against quiet, red-dusted roads, Hanapepe's rugged, beatnik charm captivated her.
A few months later, at her home in Venice Beach, California, Napier came across a real estate listing that tugged her heartstrings. Hanapepe's old United Services Organizations building was on the market. Hours later, Napier found herself making an offer. Eventually, she bought the place.
"People had fun in this building even during the war, and that spoke to me," Napier said. "So I bought it and I didn't know what to do with it, but then I thought about a store. I think a lot of little girls have a dream of opening a retail store. I also thought about how I grew up in the restaurant business—my dad was a master chef."
As with many things in life, Napier decided this needn't be an either-or scenario. Last month, she opened a dual retail store and restaurant concept with the launch of Blu Umi and Japanese Grandma's café—a place to eat and shop in the heart of Hanapepe Valley.
At Japanese Grandma's, local, fresh-caught ahi poke, thinly-sliced and seared beef tenderloin, or shrimp, cucumber and vinaigrette salad will ready your taste buds for the main course. Entrées, prepared by Tokyo-born sushi chef Shinji Ueki and served with miso soup, a small green salad and rice—include traditional broiled eel, Japanese heritage pork plated with shredded cabbage and farm-fresh chicken teriyaki skirted by seasonal vegetables. Keiki (kids) meals are also available. Lighter lunch fare includes the poke bowl and California sushi rolls. Ueki's featured sushi creations include traditional nigiri (rice with a selection of fish and seafood toppings), eel fotomaki (a complete meal that consists of rice, salad, eel and a house-made savory sauce) and the newly-created Hanapepe Roll.
The idea, Napier said, is to offer Garden Island residents and visitors a range of traditional Japanese meals that are healthy and fresh. The restaurant, small and sleek, prides itself on serving local, organic ingredients, including many of the vegetables, beef and fish. Herbs are sourced from the restaurant's raised backyard garden, which offers al fresco dining among rows of beautiful, native plantings and views of the town's historic swaying suspension bridge.
"I'm Japanese by heritage and my kids are hapa (mixed), and they call my mother 'Japanese grandma,' so this is sort of an ode to her," Napier said. "We try to use organic as often as possible and really clean, bright flavors—and a lot of vegetables. What I've been seeing on this island is that if you were to buy a bento box, it doesn't include a lot of vegetables. But really, in Japanese cuisine, vegetables are about 40 percent of the plate."
Next door at Blu Umi, shoppers will find a collection of modern, contemporary clothing—think organic cotton and breathable chiffon—as well as jewelry made of Niihau and sunrise shells and paintings and prints by local artists. While much of the inventory is made in Hawaii, other items are of Japanese and Southern Californian origin, where Napier herself is rooted. There's also a small section of travelers' necessities, such as sunscreen, aloe and bifocals.
"Made in the U.S. is hugely important to me," Napier said. "If I can't get something locally on the Island, it's made in the U.S., or, because of my heritage, it's made in Japan."
Although Napier's acquisition of the Hanapepe shop seemingly happened by chance, both Japanese Grandma's menu and Blu Umi's curated selection of goods are anything but—they reflect both Napier's values and history.