Inaugural Hawaii Food & Wine Festival offers cultural culinary excursions, tastings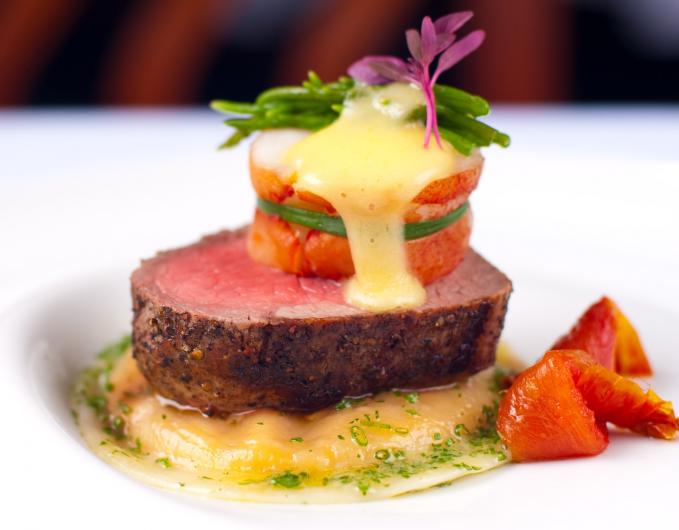 An all-star lineup of celebrity chefs will be busy creating dream evening dining experiences during the Hawaii Food & Wine Festival, Sept. 29-Oct. 1. But there will be plenty for foodies to do before sunset, too.
Tickets are now available for a series of daytime programs, which include: tastings, cultural excursions, educational lunches and innovative seminars — all on Oahu. Here are some of the offerings.
• Fri., Sept. 30 — Kamehameha Schools presents: Taste of Heeia, 8 a.m. to 2:30 p.m., price per person: $85.
Participants will visit an 800-year-old restored Hawaiian ahupuaa — green-minded mountain-to-sea land management system. The tour will be led by cultural practitioners and stewards of these historic places. An authentic Hawaiian lunch, sourced from the bounty of Heeia will be served. Prepared by Kamehameha Schools ohana (family), the stream-side meal includes wild pig (cooked in-ground), steamed sweet potato and taro, smoked and raw preparations of fish and Hawaiian seaweed. A selection of beer and wine will be served.

• Fri., Sept. 30 — Food Entrepreneurs Wanted (Fast Pitch),10 a.m. to 11:30 a.m., price per person: $40
This is your chance to pitch your creative concept to industry veterans from restaurant, banking and technology sectors. Our moderator is Dave McClure, founding partner of 500 Startups, an Internet startup seed fund and accelerator program. Foodie startups funded by 500 Startups include Culture Kitchen, Spoondate and Foodspotting. McClure has been geeking out in Silicon Valley for more than 20 years, working with companies such as PayPal, Mint, Facebook and Linkedin. Session format: five pitches in five minutes with all attendees participating in a "speed dating" round of pitches to the panel.
• Fri. Sept. 30 — Setting the 21st Century Table in Hawaii, 11:30 a.m. to 1 p.m., price per person: $50
This "farmer's lunch" showcases the bounty of our islands and the farmers who are working to create a diverse and secure food system. Grab a Hawaii "bento" featuring farmers: Shin Ho of Ho Farms, Monique van der Stroom and Sabrina St. Martin of Naked Cow Dairy and Gary Forth of Mao Farms for a round-table discussion.
• Fri. Sept. 30 — Ideas, Innovations and Inspirations (Table Talk),1:15 p.m. to 3 p.m., price per person: $40
Meet the innovators behind a rooftop garden business (pictured, below), a nonprofit farm whose main crop is people (veggies are second); the chef, who with Paul Newman, created The Dressing Room; and a social entrepreneur changing Hawaii one plate at a time. The party will start with a morning "mash-up" led by a master mixologist who will guide attendees in a "garden to glass" Bloody Mary-making contest.
An all-day pass for Sept. 30 is available at $99 per person. It does not include the Taste of Heeia excursion or the signature evening event, the inaugural Master Chefs Gala Dinner Series.
• Sat., Oct. 1 — Private Picks: Master Sommelier's Favorite Producers, 10:30 a.m. to 11:30 a.m. Halekulani, price per person: $100
Join Larry Stone, Richard Betts and Roberto Viernes for a tasting of some of their most beloved wines as each master sommelier selects their personal favorites from some of the world's top wine producers. Each master will select four wines from world-class producers as they lead you on an intimate discussion and tasting on why these wines are on their "best of the best" list.
• Sat., Oct. 1 — Two Vineyards, Twelve Grand Cru Wines, 11:45 a.m. to 12:45 p.m., Halekulani, price per person: $100

This white event featuring two of the greatest chardonnay vineyards in the world, Corton Charlemagne and Batard Montrachet. The sit-down vertical tasting offers a rare opportunity to experience a comparative tasting of six different vintages from each of these historic vineyards.
Master sommeliers Richard Betts, Larry Stone and Roberto Viernes will guide you through the tasting.

• Sat., Oct. 1 — DFS Galleria Presents: Like Coffee for Chocolate , 10:30 a.m. to 12 p.m., DFS Galleria, price per person $45.00
This interactive tasting led by the reigning U.S. barista champion and No. 2 finisher at the 2011 world championships, Pete Licata, is a chance to experience the fine art of pairing coffee with chocolate pastries and confections. You'll get to taste world class, Hawaii grown and roasted coffees paired with chocolate desserts made from Waialua Estate cacao. The desserts have been specially created for this event to compliment the Hawaii grown cacao. Hawaii is the only state in the nation growing coffee and cacao.
For more details about the festivals events and ticket information, click here.