International lineup of celebrity chefs slated for inaugural Hawaii Food & Wine Festival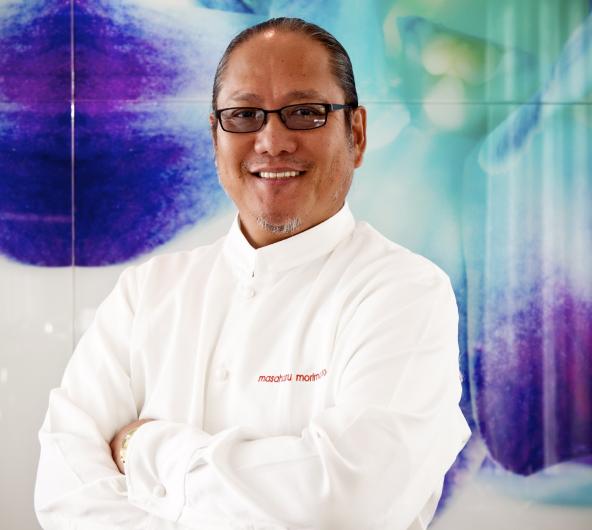 The inaugural Hawaii Food & Wine Festival, slated for Sept. 29- Oct. 1 in Honolulu, will feature a lineup of celebrity chefs from across the United States, Canada, Japan, Korea, Hong Kong, Singapore and Australia.
Among the all-stars who will be serving up culinary creations are: Iron Chef Masaharu Morimoto, whose Morimoto Waikiki recently opened at The Waikiki EDITION; Hubert Keller of Fleur de Lys in San Francisco, who has appeared as a judge on Bravo's Top Chef television show as well as a contestant in the first season of Top Chef Masters; and seafood sustainability advocate Rick Moonen of Rick Moonen's rm seafood in Las Vegas, who last year competed in the second season of Top Chef Masters.
Inspired by the ancient Hawaiian tradition of ahupuaa — an interdependent mountain-to-sea system in which everything necessary for survival could be grown, gathered and exchanged locally — the three-day festival's theme is "Taste our love for the Land." It will spotlight Hawaii's sustainable food and agricultural traditions. Proceeds from the festival will go to the Hawaii Agricultural Foundation and the Kapiolani Community College Culinary Institute of the Pacific.
The festival will feature three dream-dining experiences.
• Thurs., Sept. 29 — Streets of Asia: Morimoto and Friends
Streets of Asia: Morimoto and Friends, set for from 6 p.m. to 10 p.m. at the Sunrise Pool and inside Morimoto Waikiki at The Waikiki EDITION, will feature "innovative interpretations of popular Pan-Asian dishes" by chefs from Hawaii, Korea, Singapore, Canada and the United States, according to a press release issued by festival organizers.
The event will be led by Masaharu Morimoto (pictured, above) of Morimoto Waikiki at The Waikiki EDITION. Other participating chefs include: Kaleo Adams, The Waikiki EDITION; Edward Kwon, LAB XXIV, Seoul; Susur Lee, Lee, Toronto, Shang, NYC, Zentan, Washington D.C., and Chinois, Singapore; Justin Quek, Sky on 57, Singapore; Douglas Rodriguez, Deseo, Scottsdale, Ariz.; and Guy Rubino, Ame, Toronto. Tickets start at $200 per person ($75 is tax-deductible).
• Fri., Sept. 30 — Inaugural Halekulani Master Chefs Gala Dinner Series
The Halekulani Master Chefs Gala, a formal dinner at Halekulani, will feature "extraordinary food and wine pairings by master chefs and master sommeliers from Hawaii, Japan, Australia and the United States," according to organizers.
Featured chefs include Vikram Garg, Halekulani, Honolulu; Hubert Keller (pictured, left), Fleur de Lys, San Francisco; Robin Lee, Nobu Waikiki, Honolulu; Yoshihiro Murata, Kikunoi, Kyoto, Japan; Alessandro Stratta, Stratta, Las Vegas; Tetsuya Wakuda, Tetsuya's, Sydney, Australia, and Nancy Silverton, Mozza, Los Angeles.
Tickets start at $1,000 per person ($800 is tax-deductible) — that includes entry to the cocktail party at Halekulani's Garden Terrace Lawn from 6 p.m. to 7 p.m. and a reserved seat for dinner in the ballroom. Seating for dinner begins at 7 p.m.
• Sat., Oct. 1 — From Mauka to Makai: Hawaii's Sustainable Future
Mauka to Makai, Hawaiian for mountain to sea, will serve as the festival's grand tasting event, with dishes prepared by 15 celebrity chefs known for promoting farm-to-table cuisine and for practicing sustainable sourcing and cooking practices.
The event, set for 6 p.m. to 9 p.m. on Hilton Hawaiian Village's Great Lawn, will feature the following chefs: John Besh, Besh Restaurant Group, New Orleans; Michael Cimarusti, Providence, Los Angeles; Celestino Drago, Drago Restaurant Group, Los Angeles; Dean Fearing, Fearing's, Dallas; Michael Ginor, Hudson Valley Foie Gras & Lola, New York; Ed Kenney, Town, Honolulu; George Mavrothalassitis, Chef Mavro Restaurant, Honolulu; Peter Merriman, Merriman's, Hawaii; Rick Moonen (pictured, right), Rick Moonen's rm seafood, Las Vegas; Michel Nischan, Dressing Room, Westport, Conn.; Philippe Padovani, Padovani's Grill, Honolulu; Jeffrey Vigilla, Hilton Hawaiian Village, Honolulu; Marcel Vigneron, a two-time contestant on Bravo's Top Chef show, Marcel's Quantum Kitchen, Los Angeles; Alan Wong, Alan Wong's, Hawaii; and Roy Yamaguchi, Roy's Restaurants, Hawaii. Tickets start at $200 per person ($75 is tax-deductible).
The Hawaii Food & Wine Festival will also offer wine tastings conducted by top-notch vinters, culinary workshops, industry seminars and field excursions. Two of Hawaii's own James Beard award-winning chefs, Roy Yamaguchi and Alan Wong are serving as event co-chairs. For more information about the festival, click here.