International Waikiki Hula Conference staging free sunset "hoike" shows this weekend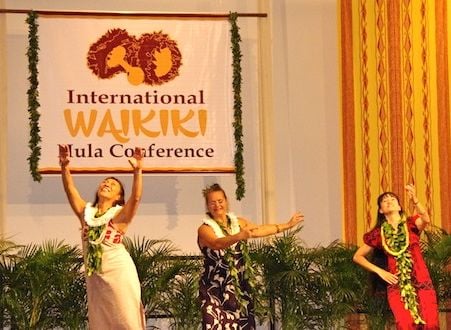 If you happen to be in the Waikiki area at sunset this weekend, you're cordially invited to swing by the fifth annual International Waikiki Hula Conference's hoike (exhibition) hula shows.
During the free shows, set for 6:30 p.m. to 7:30 p.m. tonight and tomorrow night, on stages scattered around Oahu's world-famous oceanfront stretch, dancers will perform to a mele (song) learned during the conference's workshops and seminars led by more than 40 kumu hula (hula teachers) at the Hawaii Convention Center in Honolulu.
This year's gathering celebrates "Lei Day in Hawaii," with more than 80 workshops featuring mele and hula representing flowers or lei. For a schedule detailing times and places for hoike hula shows, set for today and tomorrow, click here.
Some 600 hula enthusiasts from the U.S., Japan, South Pacific and elsewhere are assembling for the event.
On Sun., May 13, the conference will hold its closing "Kanikapila" (kani ka pila is Hawaiian for "let's play music") from 6:30 p.m. to 9 p.m. at Waikiki's Kuhio Beach hula mound. It will feature Hawaiian music and hula shared by both conference attendees and kumu hula.
For more information about the International Waikiki Hula Conference, a nonprofit project of the Waikiki Improvement Association, click here.