Interview: Fashion designer Manaola on Hawaiian luxury, his creative process and moving beyond muumuu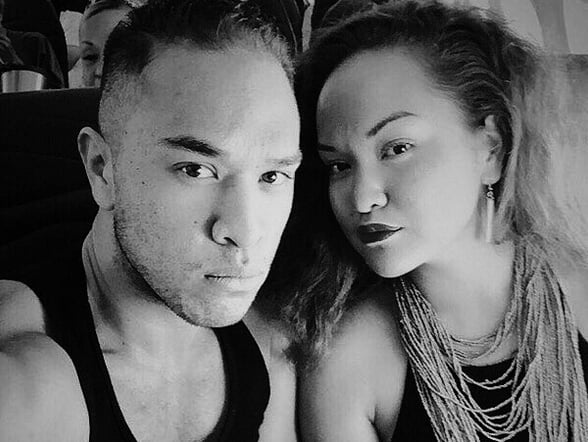 Manaola Yap is a storyteller.
At 29, the Native Hawaiian designer has a vision to push Hawaii fashion forward into the mainstream luxury market without sacrificing the culture ingrained in his rich Hawaii Island upbringing. We spoke to him about his new flagship Ala Moana Center location, its official debut collection and the stories he wants to tell to the world through clothing.
In the timeline of Hawaiian fashion where does Manaola fit?
Going though the 1800s, a lot of the foreign contact and influences has made fashion take a more modest role, not showing skin, covering certain parts of the body. The muumuu (loose dress, traditionally worn in Hawaii) was created, with the inspiration of foreign influence and popular culture at the time. The mindset of what we believe is too sexual in today's society was looked at through different eyes in ancient times. It was seen looked at through the lens of procreation, which is beautiful, because we're celebrating life. Women were topless, the body was looked at with respect.
But if you look at Hawaiian fashion today, I feel like it's at a standstill because we're still wearing muumuu. They're beautiful gowns, and definitely pieces that are very of a period, but the thing I ask myself is where's the continuity? It's 2015. We can't be wearing muumuu for the rest of our lives. Our vision at Manaola is to create fashion-forward outfits that appeal to the changing times. Because time is always moving and we need to adapt to all thatʻs happening in todayʻs society and world while still keeping our traditional integrity.
In your design process, how do you balance the traditional and modern?
My way has been taught to me by my family, it's called living pono (with righteousness). Itʻs all a part of the Manaola lifestyle. I always make sure I have an intention because Hawaiian thought is that, whatever we do, you have to put an intention behind it, living the purposeful life. "Why did you put this on? Why'd you say that? Why'd you react this way?" There's always an intention behind what happens and what you do.
In design, it's the same way. When I look at a garment I ask myself what are my intentions for this garment, what is this garment going to do the person that wears it, what do I want it to do, what do i want it to accomplish for the person thats going to wear it. Bringing back the spirituality behind dressing somebody, with the thought of their body as an altar, as a house for the spirit, is a whole other level of fashion. Fashion isn't looked like that anymore. It's very aesthetic nowadays. But that's the difference between mainstream fashion and Hawaiian fashion. Ours transcends time through spirituality, which is found in the garment because when we create one for something there's an intention to make magic happen.
What are some of your earliest inspirations?
My mom [hula teacher Nani Lim Yap] is such an inspirational person. Artistically through music and through hula, she would challenge me all the time. I remember once when she said, "Tomorrow night we're going to have this show and Nāmaka (ocean goddess) is going to be in it, so let's go to the beach and get some shells and imagine, what would she wear?" Or if Pele had a skirt of fire what would it look like? What can we use today to make a skirt that looks like its on fire? Those are the creative processes that sparked my creativity to design. And always integrating the traditional aspects of why we're going to make it. Why am I cutting it like this? What's the intention behind that?
I never went to design school. My grandma used to draft for the army. My auntie was a seamstress, who taught my mom how to sew. So did my grandma. My mom was really the one who helped me cut and construct my pieces and teach me how to sew. That was my design training. I started at a really young age. My mom was already deep into hula when I was born. From when I was 6, I was already processing dyes, gathering native plants, shavings, leaves, dirt, tumeric, making different colors. I did a project in school for a science fair and everybody had like, the volcano, the electric bulb, and my project was "Can native dyes be transferred to modern textiles?" At 8 years old that was like, whoa. (Laughs.) People were like tripping. And I was so ashamed too! I thought people were going to think it was stupid. When I set up my display, I had created nearly every color of the rainbow all from native dyes, native roots and plants, making it on the spot and there was a line of faculty members just to see my exhibit. I had extracted really vibrant colors, purple, pink, orange, green, yellow, and people were just tripping out, like "This came from a plant?" Even from that age, I've always been interested in traditional and organic methods of design and aesthetic.
What was the moment you decided to start Manaola as it is now—a store, a brand?
I was actually challenged. I was totally against screen printing and mass manufacturing because I was afraid of losing the spiritually behind the prints. But all my friends said, "No, listen, what are you afraid of losing?" I said, "The stamps to make the prints." They said, "OK, what if you carved the stamps with the same intention, then you print it out, use that print exactly as you intended onto a textile and it will emanate the spirit of the design."
And why now?
If you look at the base garments of what's available in the Hawaiian fashion industry, there's a lot of island-wear labels that cater more towards the aloha shirt, the muumuu, the family portrait photo clothing. I always wanted to step into the luxury category because it doesn't exist here. Luxury Hawaiian fashion never existed before us.
That's a word thrown around a lot in fashion. How do you personally define "luxury"?
I want to show that Hawaii has so much story, so much to tell, and so much to offer the fashion industry. That it's so much more than just a garment on a hanger. It's a garment steeped in tradition, culture, heart and soul, so, when you put it on, it elevates you. That's luxury.
We have a full women's heel collection—lambskin, suede and leather—a men's bag collection, leather and canvas—a Hawaiian-designed stiletto heel, the first time in history. We have such a big luxury base clientele that comes here to vacation but nothing for them to really purchase outside an aloha shirt or a muumuu for a luau that goes in their suitcase and they never use again. But, with our clothing, they still wear them after, on the mainland and everywhere. We want the spirit of Hawaii and fashion with purpose to move itself into other lifestyles around the world.
One of the philosophies we have at Manaola is to always push the envelope. It's to make sure the world can see that we're just as fashionable, that we have a fashion culture here and that it transcends anything because it's so purposeful and meaningful. And there's so much spirituality that I can't even describe it in words, but you can feel it. That's why I consider us a luxury brand.
What's the response been like within the Native Hawaiian community?
It's been overwhelming. There are so many people who believe in the brand and support us. Kids write to me saying they want to design. I love being able to be that light for anybody—Hawaiian, indigenous, wherever you are in the world—to show that we can still be so connected to a place, express it through art and make it happen. That's the key to our brand and what we're moving towards, to heal and inspire.
You mention spirituality a lot in your work. Designing into your next collection, where are you spiritually now that may be different from where you were when you started?
I moved up here to Oahu and the energy on this island is way different. It's all good, but it was challenging for me. My house [on Hawaii Island] is on the base of Mauna Kea, so going from that to here is drastic—like, just traffic and stuff! Even though I knew from the business side this is the only place that has the demographics to support a brand like this, it was a struggle for me at first. On the design side, I asked my ancestors, "Did I bring myself here or did you? What's the deal?" Then I realized that these kinds of places need the most healing—city life. Itʻs where it's needed the most, that beautiful calming spirit and island energy. Just from being here, I've been able to progress and adapt to styles that can be used in the city. In the new collection, my couture pieces are a little more swanky, Honolulu-ish. I'm inspired by the businesswoman here and where their fashion is concerned.
What's the most rewarding experience been for you this year?
I was just in Japan, performing on a luxury cruise ship, and I saw a woman in my dress. You could tell she loved it and was feeling all real in it. So beautiful in one of my designs, and the print that was on her dress was inspired by a day when I was paddling out Kawaihae side, and the beauty of the cliffs and that specific place, and now that beauty is emanating off the body of this woman and it's making her feel good. That trips me out.
Where are you traveling next?
Maui, to check on my bag collection. Then, Philippines to Bangkok, then Hong Kong to Bali, then Japan, because I still dance hula between all this because it's a part of me. I just need it to balance me. I have to.