Introducing Hawaii's rising young R&B singers and songwriters
These artists shine a spotlight on a different musical genre taking hold in the Islands.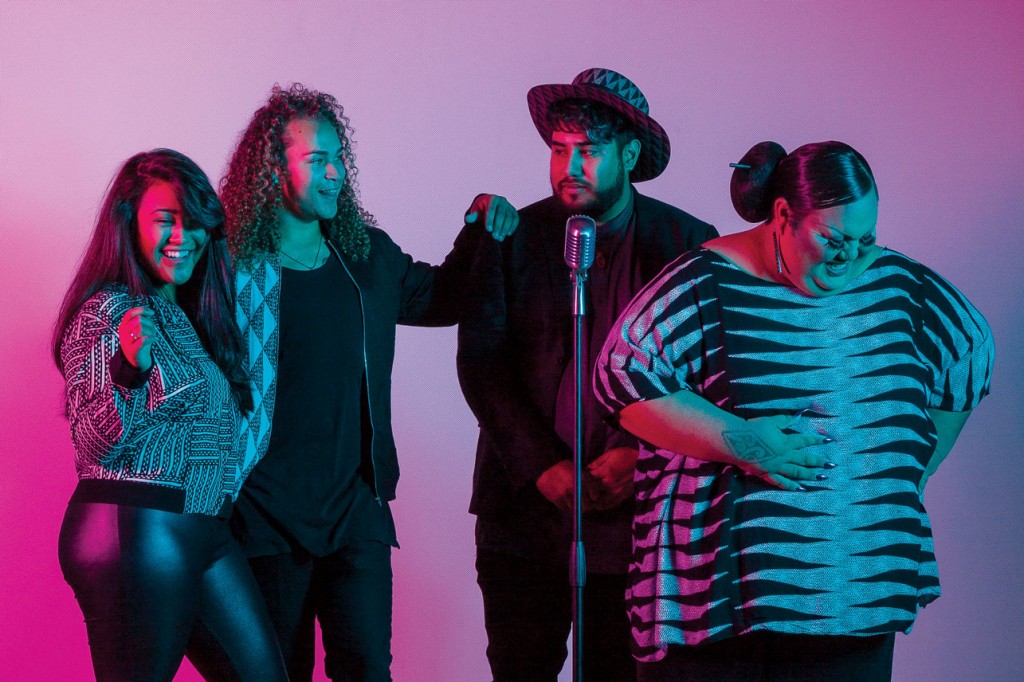 For many years, the Hawaii music industry and local radio stations have highlighted three familiar genres of music: Hawaiian, reggae and the catchy Island-blend known as Jawaiian. But, thanks to rising stars Izik Moreno, DeAndre Brackensick, Lina Robins-Tamure and Keilana Mokulehua, the musical landscape has a new sound to celebrate.
Though each is an artist in their own right, they collectively call themselves Brunch—a supportive circle of creative friends with a passion for songwriting and soulful R&B, who are often seen at each other's gigs. "We aren't breakfast, and we aren't lunch, we're that sassy in between," Mokulehua explains. "We're a family who's there to motivate and push each other, but there's no competition."
Whether they are performing at restaurants throughout Oahu or filling seats at the Honolulu Museum of Art's Doris Duke Theatre and Blue Note Hawaii, they are becoming noted fixtures on the local music scene, showing their support and even lending their talents to each other onstage.
Izik Moreno: The Powerhouse
Born in Utah and raised on Molokai, Moreno's appreciation for simple island living was punctuated by his grandmother's love of Hawaiian music. "The best thing about Hawaiian music is the poetry and wit. It's about using nature and mythology or olelo noeau (Hawaiian proverbs) to create an image," he says. As he grew older, he was introduced to powerhouse vocalists like Mariah Carey, Destiny's Child and Aaliyah, soon finding himself cultivating his own unique sound, inspired by the soundtrack of his childhood. By the age of 13, he knew music was his ultimate dream, and, in 2012, he stepped into the local music scene. Izik released his debut album "Obsidian," in 2016 at the age of 30, blending his musical influences into a deeply personal pop and R&B album of his own original songs. It's a welcome departure from Hawaii's island music, showcasing Izik's inimitable vocals, poetic songwriting and addictive pop sound. You can find Izik performing favorites from his album and more at Monkeypod Ko Olina, The Study at The Modern Honolulu and The Hilton Waikiki's LBLE Lounge weekly.
izikmuzik.com, instagram.com/izikfamous.
The official music video for Izik's original song, "Midnite."
Lina Robins-Tamure: The Diva
At the age of 11, Robins-Tamure (formerly Paul Robbins) lived a dream come true. The opportunity came by way of Oprah Winfrey, to perform live on "The Oprah Winfrey Show" for one of the singer's greatest icon, the legendary Mariah Carey. The profound moment showcased the young singer's vocal abilities and opened the first door to music for young Paul.
Although Robins-Tamure grew up largely influenced by Hawaiian music through her musical father, it was the discovery of R&B icons that became the catalyst for a future in music. "Hawaiian music was the first sound that inspired me, but Aretha Franklin was the first singer who really caught me," she says. "R&B took over my life for a long time."
Nicknamed "Paulina," for her falsetto style, the fitting moniker guided the young vocalist's path to self-discovery. In 2013, Paul embraced her identity as a transgender woman, transitioning to Lina Robins-Tamure and finding solace in loved ones who celebrated her brave journey to authenticity. She emerged with newfound personal and professional confidence, becoming one of the most sought-after Hawaiian musicians of her generation.
Robins-Tamure can be seen performing weekly in Honolulu as a soloist as well as with her Hawaiian music group, Uheuhene, but she certainly hasn't forgotten her passion for R&B. When the time comes for her to take to the studio, you won't find her choosing between her two loves. "I've been fortunate to have really great support in the Hawaiian music community, but I'm also lucky to have these friends who appreciate the R&B side of me," Robins-Tamure explains. "I would probably put out a Hawaiian album in the future, but I would definitely love to do an R&B album one day."
instagram.com/lina_r_t, soundcloud.com/linalina_r_t
Lina covers Smokey Robinson's "Ooo Baby Baby" with Brunch:
Keilana Mokulehua: The Songbird
With music running through her veins, singer-songwriter Keilana Mokulehua was destined to perform, thanks to the inspiration of her father and paternal grandfather. When her grandfather passed in 2004, she found herself yearning for that connection. "It changed something for me," she says. "It disconnected me from my Hawaiian side, so I picked up the guitar and started to sing as a way to get closer to him."
Fate introduced her to Robins-Tamure in high school, where the two aspiring singers began their musical studies in concert glee. They formed an instant connection and started singing together both in the classroom and out. "We have so many videos of us sitting in the breezeway of our high school singing together; some are still up on YouTube," she says with a laugh.
Her parents' affection for '90s R&B captivated Mokulehua, who cites Michael Jackson, Janet Jackson and Aaliyah as some of her biggest influences. Though she began songwriting at an early age, she has made new strides in her writing with support from Brunch friends. "I'm a more reserved person, so letting myself be vulnerable to the public is something I'm still timid about. My friends have really helped me to open up in my music and onstage in performances."
Now in college, Mokulehua attends classes focused on expanding her knowledge of business and music, while performing three to five nights a week at local venues like Highway Inn, Tommy Bahama and The Study. Hawaii can expect big things from this ambitious songstress in the years to come.
keilanamusic.com, instagram.com/keilanamusic, soundcloud.com/keilana-mokulehua.
Keliana Mokulehua and Argee Rivera covering Christina Perri's "A Thousand Years."
DeAndre Brackensick: The Siren
The San Jose native has vocal abilities that were distinctive as a child, with a high pitch and vocal range that became as much a point of contention as it was revered. "I always had a high voice as a kid but got teased for singing that way, even though falsetto was always something I was drawn to," he says. When his visits to Hawaii turned it into a second home, Brackensick began celebrating his unique voice. "I connected to leo kiekie (Hawaiian falsetto) because of my hanai family, and thought it was so cool that men were praised for singing in that style."
In 2011, he auditioned for television phenom "American Idol," and, though he was not initially accepted, spent the next year honing his skills and came back in 2012 to rave reviews. With judges Randy Jackson, Jennifer Lopez, Steven Tyler and many others, Brackensick finished in the Top 8. Though the experience made him a household name and provided him professional training and nationwide touring, he has finally found the depth of friendship and musicianship he yearned for, thanks to Brunch.
Brackensick is exploring songwriting and learning guitar for his latest endeavor: a debut album. "It will definitely be R&B, funk, something you can groove to," he says. Expected to release in 2017, music lovers will certainly fall in love with his unmatched falsetto sound.
instagram.com/deandre408, soundcloud.com/deandre-brackensick.
Watch DeAndre doing a cover of Eric Benét's "Sometimes I Cry," on American Idol Season 11, at the Top 9 performance show.