Ironman World Triathlon Championship set for 35th annual competition on Big Island. Watch it live online.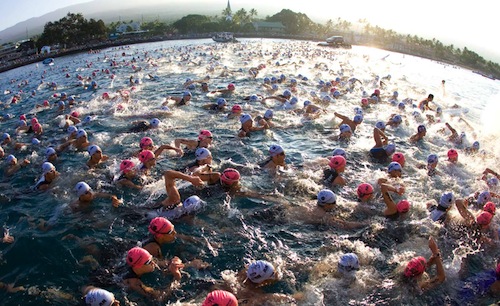 This Saturday's Ironman Triathlon World Championship on the Big Island will mark the 35th year of the grueling 140.6-mile three-sport race. And if you can't be on the sidelines of its Kona Coast course personally cheering on competitors, you'll be able to watch it live on the Web wherever you are.
The race, founded in Hawaii in 1978, is the granddaddy of triathlons and remains the most world-renowned. The first three competitions—which attracted at first only dozens of athletes, and weren't even called Ironman—were held on Oahu, moving to the Big Island's perpetually sunny west side in 1981.
At sunrise on Saturday, Oct. 12, more than 2,000 well-trained athletes from more than 60 countries will take part in this world championship of triathlons, which arrives at the tail end of a yearlong series of long-distance triathlon races organized by the World Triathlon Corporation. The Ironman is so prestigious among triathlons that each of its participants has to qualify in other sanctioned international traiatlons just to enter.
The first leg of the race—a 2.4 mile swim that begins and ends at Kailua Pier—starts at 6:30 a.m. and 6:35 a.m. for men and women, respectively, registered as pro and elite athletes. The rest of the field kicks off the swim at 7 a.m. The Ironman's second leg is a 112-mile bike ride from Kailua Pier alongside the dark-and-rugged lava fields lining the South Kohala Coast north to the Kohala town of Hawi and back. After that, competitors will run a full marathon (26.2 miles) in the Kona-Kailua area to the Ironman finish line on Alii Drive near Kailua Pier.
Last year's top finisher, Australian Pete Jacobs, finished the open ocean swim, the bike ride and marathon course through Kailua Village and out onto Queen Kaahumanu Highway in 8 hours, 18 minutes and 37 seconds. The 31-year-old beat out Germany's Andreas Raelert by just over four minutes, earning $120,000.
Britain's Leanda Cave pulled away from her closest competitor in the last 3 miles of her run to win her second world title of the year, finishing last year's Ironman Triathlon World Championship in 9 hour, 15 minutes and 54 seconds.
Jacobs and Cave will both be back for this year's Ironman. Notable competitors racing their first Ironman Triathlon World Championship this year will include celebrity chef Gordon Ramsey and former Pittsburgh Steelers wide receiver Hines Ward.
The race officially ends at midnight.
According to event organizers, the inaugural "Hawaiian IRON MAN Triathlon" was conceptualized as a way to combine three of the toughest endurance races in Hawaii: the 2.4-mile Waikiki Roughwater Swim, 112 miles of the Around-Oahu Bike Race, and the 26.2-mile Honolulu Marathon. On Feb. 18, 1978, 15 athletes congregated in Waikiki to take on the first "IRON MAN" challenge.
The 2013 Ironman Triathlon World Championship will be streamed live in its entirety, from 6:30 a.m. (Hawaii time) on Saturday at www.ironmanworldchampionship.com. More information about the competition is also available on the website.