It'll be here … Aloha! CBS picks up new Hawaii Five-0 for full season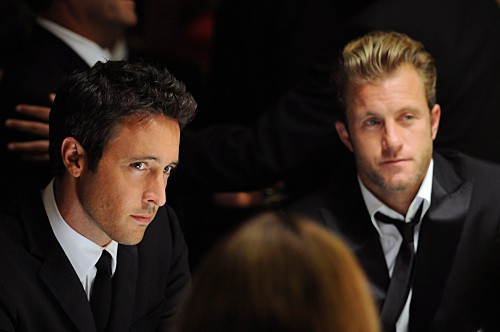 Looks like Alex O'Loughlin will get at least 17 more episodes to perfect his "Book 'em, Danno!" line delivery.
CBS yesterday picked up its Hawaii Five-0 redux for a full season of McGarrett-Danno bonding, gorgeous Oahu aerial photography and fictional Hawaii criminal activity even Dog the Bounty Hunter couldn't dream up. The series gets a green light for a full 22-episode season, insuring enough cases for the Five-0 team to crack at least through May 2011.
The full season pick-up for Five-0 was hardly a surprise. The Oahu-filmed crime drama is the CBS network's top-rated freshman series this fall, and the most-watched new series among all the broadcast networks. Five-0's debut episode wound up the most recorded series in DVR history, with 3.4 million viewers. Its second episode picked up 3.3 million DVR viewers. Counting weekly DVR viewers, Hawaii Five-0's audience averages 14.15 million per episode.
That said, not all is rainbows and sunsets in the world of Steve and Danno and Chin and Kono. After bowing to 14.2 million total viewers and the top spot in its time slot on Sept. 20, Hawaii Five-0 notched worrisome drops in viewers each week through its Oct. 11 fourth episode, which attracted a series low 10.7 million viewers.
Last Monday's episode, the series fifth, rose to 10.9 million viewers. But Five-0 lost the top spot in its time slot for the first time (albeit by a mere fraction of viewers) to ABC's crime drama Castle.
Still, unless Hawaii Five-0's viewership erodes significantly through the remainder of its first season run, the series is almost a guaranteed lock for a second-season pick up next fall. CBS fed millions of marketing dollars into the Five-0 hype machine this past summer, and still more millions into the series' so far visually impressive production. Industry watchers agree that the network has a strong desire to realize a return on its investment and is willing to wait for the series to grow its audience.
Us? We'd like it if the series stays on the air and in Hawaii.
It's always a kick catching the Five-0 crew filming in Honolulu and all over Oahu. And each new episode has proven to be an increasingly enjoyable ride, with an ever-lessening modicum of clunky dialogue. (Note to producers: Please continue to decrease the use of Hawaii Pidgin English in Five-0 scripts since no one we've seen so far on the show is able to properly "speak the bird," let alone know that no one in Hawaii ever utters the words "speak the bird." We appreciate it.)
What do you think of Hawaii Five-0 five episodes in?
Do you like Scott Caan's take on Det. Danny "Danno" Williams as much as we do? Digging the show's impressive cinematography and production design? Only tuning in each week to see familiar Hawaii scenery and/or Grace Park? Cringed when raised-in-Hawaii Det. Steve McGarrett's pronunciation of the Hawaiian word 'aumakua came off sounding a lot like owl-makua?
Leave a comment on our HAWAII Magazine Facebook page and let us know!