It's arrived: Hawaii's largest swell of the season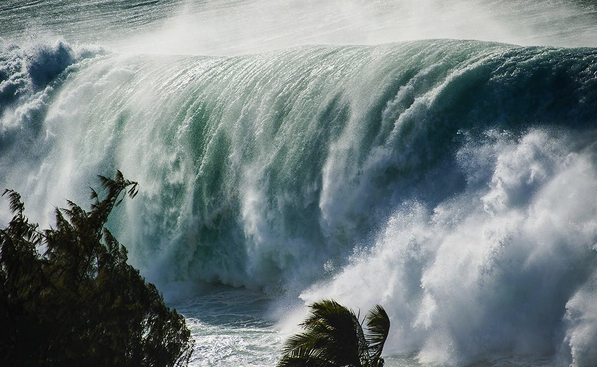 It was the largest swell of the season and it rolled in hard this morning: 55-foot faces.
High surf pounded the shoreline of Oahu's North Shore with ocean water coming over Kamehameha Highway causing the largest stretch of road ever closed here as a preventative measure. By evening, the closures at Haleiwa Road, Joseph P. Leong Highway and Kuilima Drive had been cleared, according to KHON2, but state officials are closely monitoring these areas with a history of being affected by high surf when the next high tide is forecasted to hit at around 3:30 a.m. tomorrow, Tuesday morning.
Famed photographer Clark Little shared some of the massive waves that rolled in today (pictured above), along with videos that illustrate the impact they had on the roadways at the coastline. In this video, watch the water come up over the Three Tables area of Pupukea Beach.
As a result Haleiwa and Haleiwa Alii Beach Parks, Waimea Bay and Keawaula Beach (which locals often refer to as Yokohama Bay) on Oahu were closed today. Until further notice, no swimming at any of the North Shore beaches lifeguards have ordered. At some beaches, even the lifeguards themselves were removed from their posts by Ocean Safety. Oahu's west shores are also on a high surf warning.
For the neighbor islands, north and west shores of Niihau, Kauai and Molokai, and north shores of Maui and the Big Island are under a high surf warning.
This high surf has got people whispering loudly about the possibility of The Eddie once again with organizers of the event putting surfers on a "yellow alert" for this Thursday. The offshore buoys are already suggesting the swell after this current one about to hit Hawaii could break the record set in 1998 by three feet, predicts Stab Magazine, potentially making it the largest one ever surfed here on the Islands. It's the final swell before the Eddie's closing window and won't be given a green light until 8 a.m. on Thursday morning.