Jack Johnson, with Paula Fuga and John Cruz, to stage Hawaiian Islands acoustic tour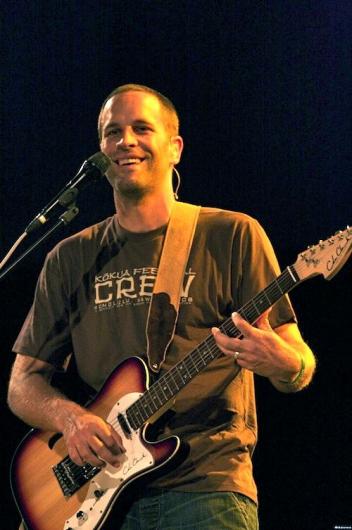 Next month, popular Hawaii singer-songwriter Jack Johnson, along with Oahu-based musician friends Paula Fuga and John Cruz, will stage seven all-acoustic shows in the Islands.
The tour is in support of an album slated for release on April 17, Jack Johnson and Friends — Best of Kokua Festival. For information about pre-ordering the album, click here.
The album features live tracks from six years of the Kokua Festival. Among the highlights: onstage collaborations with big names in music circles such as Willie Nelson, Jackson Browne, Eddie Vedder, Ben Harper, Dave Mathews and Ziggy Marley.
Proceeds from the album and tour will benefit the Kokua Foundation, a nonprofit that supports environmental education in the schools and communities of Hawaii.
Johnson (pictured, right), who grew up on Oahu's North Shore and now lives there with his family, released his debut album Brushfire Fairytales in 2001, and has followed up with five more albums. Among his popular folk rock/alternative rock tunes: Banana Pancakes and Better Together.
Fuga's singing has been described as modern Hawaiian soul, and Cruz (pictured, below) has been called as the closest thing Hawaii has to the mellow, guitar-strumming James Taylor. Both are winners of the Na Hoku Hanohano Award (Hawaii's Grammys).
Tickets for all tour shows go on sale tomorrow (Sat., March 3) at noon (Hawaii time). Kokua Foundation members may start buying tickets at 9 a.m., but they must present membership ID along with valid photo ID (driver's license) during the pre-sale. In an effort to curb scalping, organizers have announced that tickets will be sold only at each venue's box office, and there will be a strict two-ticket limit per customer.
Here's the Hawaiian Islands tour schedule.
• Kauai Community College Performing Arts Center (Lihue, Kauai) — 7 p.m. on Thurs., April 19 (doors open at 6:30 p.m.). Tickets: $50, all general admission seating
• Hawaii Theatre (Honolulu, Oahu) — 7:30 p.m. on Sat., April 21 and Sun., April 22 (doors open at 6:30 p.m.). Tickets: $75, orchestra & loge, $50 for balcony (plus $3 restoration fee). All seats reserved.
• Castle Theatre (Kaului, Maui) — 7:30 p.m. on Wed., April 25 and Thurs., April 26 (doors open at 6:30 p.m.) Tickets: $75, and $50. All seats reserved.
• Kahilu Theatre (Waimea, Big Island) — 7:30 on Sat., April 28 and Sun., April 29 (doors open at 6:30 p.m.). Tickets: $50, all seats general admission.
Note: For general admission shows, ticketholders will receive a non-transferable voucher at the time of purchase. On the evening of the show, ticketholders must present the voucher and photo ID to be admitted to the show venue. Also, each ticketholder's entire group must enter the venue at the same time.
For more information about the tour or the new album, click here.