Jack Johnson's Kokua Festival back for 2010 at Waikiki Shell, April 23 & 24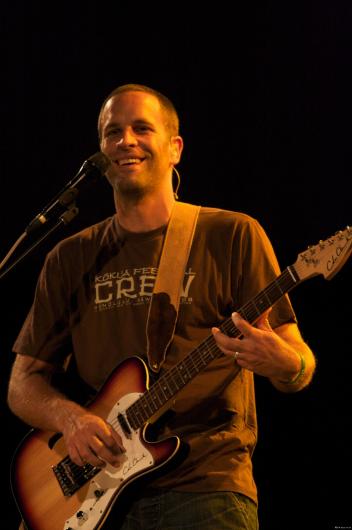 Jack's back with Kokua Festival!
After taking a break in 2009, Hawaii singer-songwriter Jack Johnson's annual Kokua Festival environmental awareness benefit concerts are returning to Oahu's Waikiki Shell on April 23 and 24.
The fest's sixth edition will feature live sets by multi-Grammy-winning reggae musician Ziggy Marley and blues/world music legend Taj Mahal. Representing for Johnson's home state at the 2010 fest are Hawaii ukulele master Jake Shimabukuro and Maui singer-songwriter-musician Anuhea.
Kokua Festival 2010 co-headliners are all first-timers to the fest's stage, which in past years has featured an impressive roster of music's best performing gratis. Pearl Jam's Eddie Vedder, Jackson Browne, Ben Harper, Willie Nelson, Michael Franti and Spearhead and Dave Matthews—in his first-ever Hawaii performance—have all taken the Kokua Festival stage since its first go-round in 2004.
As always, Kokua Festival co-founder Jack Johnson will headline the two-day event. The festival grounds will again host an on-site Kokua Village with more than 50 green-supporting food, product and service booths.
Tickets—priced between $40 and $125—go on sale to Hawaii-residents-only on Feb. 20 at Ticketmaster.com or by phone at 877-745-3000. Ticket sales will open for general public purchase on Feb. 21, also via Ticketmaster.com and the phone number above.
A start time was not immediately announced for ticket sales on either date. Showtimes for both Kokua Festival concerts were also not immediately announced.
All proceeds from both concerts benefit the Kokua Hawaii Foundation, a nonprofit founded by Johnson and his wife Kim, to support Hawaii-based environmental education programs.
For more information on the concerts and Kokua Hawaii Foundation's mission and myriad projects, visit Kokua Festival's official site here.
Kokua Festival's 2010 dates mark the massively-popular benefit's return following a two-year absence. After five consecutive years of hosting the fest, Johnson decided in January 2009 to give the always-sold-out benefit concerts a rest for a year.
"We just had a lot going on last year with life in general and decided to take a little break," Johnson explained to HawaiiMagazine.com last October. At that time, still pondering whether Kokua Festival would return in 2010, Johnson also said he was considering recording a new studio album and touring in the new year.
"I'm going to be home. I thought I'd use the time to record again," he told us, in October. "All of a sudden we're feeling like there's enough material to do an album. … I've been writing a lot and spending a lot of time just kind of laying (music) down.
"I have a new baby and everything and there's a new life in the world, and a lot of the songs are upbeat. I feel pretty good."
Turns out, Johnson will be doing Kokua Festival, a new album and another world tour in 2010.
Johnson and longtime bandmates bassist Merlo Podlewski, drummer Adam Topol and pianist/vocalist Zach Gill, have been ensconced in the singer's home studio on Oahu's North Shore in recent weeks recording their sixth studio album. The still unnamed album, which is being recorded entirely in Hawaii with 100% solar energy, is set for a worldwide release on June 1 on Johnson's Brushfire Records label.
The album's first single will be released in April. Johnson begins a 2010 world tour in support of the album on May 16 in Berlin, Germany.