Ka Haku's Smoke Shack barbecue wows on the Road to Hana
The incredible flavors of this outdoor kitchen will make you happy you made the decision to stop.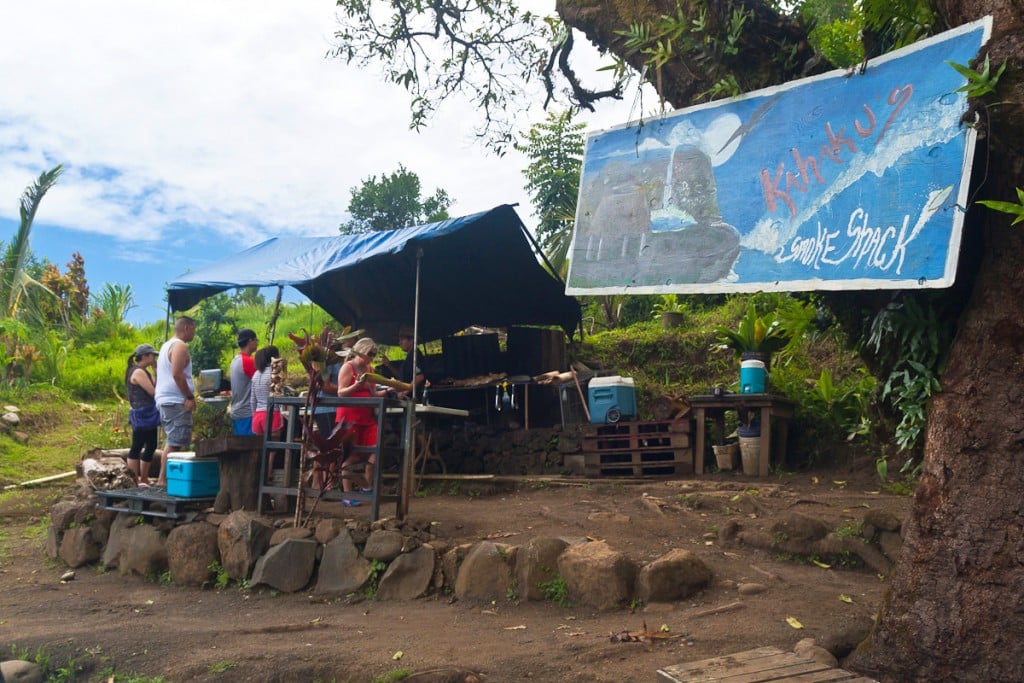 On Maui's famous Road to Hana, away from town and cell phone reception, is a culinary gem that's wowing people from all over the world. It's a little barbecue shack (or what we would describe as a few tarps thrown over a metal frame) near Mile Marker 10. Next to it is a small parking lot and a few creatively decorated pallets and logs for sitting on to eat your meal. A quirky hand-painted sign identifies the turnoff you've just discovered as Ka Haku's Smoke Shack.
It may not look like much, but it's home to some of the most ultra-fresh, amazingly delicious, locally sourced, zero-waste cuisine (everything, even your dishes, are biodegradable) on Maui. The menu consists of one choice: Whatever the chef is making.
For $20, we got a pair of rough-hewn bamboo chopsticks and a long, hollowed out bamboo stalk for a plate, lined with banana leaves and filled with enough goodies to feed two people. Fresh off the simple, open-flame wood grill comes the juicy, mouthwatering, expertly seasoned chicken, ribs and glazed pork belly. Straight from the fields and gardens of Maui and the fern-covered hills just a few feet away comes the vegetable portion, a relish made with onion, tomato and the edible pohole (fiddleneck) fern. To round it out, there's a helping of coconut rice, and sweet plantains caramelized with butter, cinnamon and brown sugar and topped with whipped cream. To a hungry traveler, it's absolute heaven.
About six months ago, chef Chewie left his job at Charley's Restaurant and Saloon in Paia to cook for people out in the wilderness. "I was tired of not seeing my kids," he says. "I knew the owner here and ended up taking over. Nobody had consistently been doing it five days a week."
He's completely unfazed by the lack of cell reception and the fact that his "kitchen" is in the middle of nowhere. It's a fun job for him, and he's proven that none of those things matter, because he's cooking up some of the best food on the Road to Hana.
---
Ka Haku's Smoke Shack, 529-535 Hana Hwy, near Milepost 10, Hana Hwy., Haiku, Maui. Open at least 5 days a week til late afternoon, or whenever the food runs out.