Kajiki Lemongrass-Kaffir Lime Poke Recipe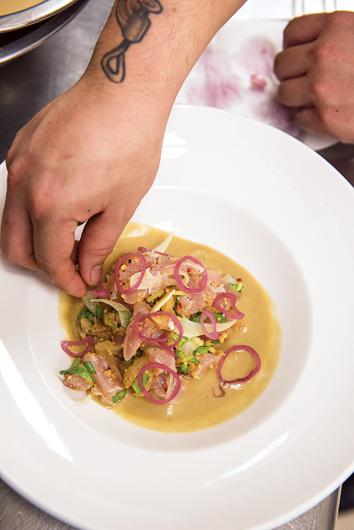 Andrew Le, owner-chef of The Pig & The Lady, was eight years old the first time he tried poke, as his uncles consumed exotic Vietnamese fare and watched football on TV. "They were eating it along with all this gnarly stuff—coagulated blood cubes, pig intestines," says Le. "I didn't like it. I was a kid." That changed at age 16 when Le tasted poke again in a basic recipe of fresh fish, shoyu and inamona (mashed kukui nut and salt) served over sushi rice. "It was simple. It was super good. It was good with beer. Suddenly I got it." The wonderfully aromatic poke he shares here is a take on Vietnamese-style ceviche. "The lemongrass sauce gives it a little heat, nice spice and brightness. There's a nice nuttiness from the toasted rice powder." Le nailed the ingredients and flavors the first time he made it. "I hit it right away on this one."
Kajiki Lemongrass-Kaffir Lime Poke
(By Andrew Le)
1 lb. fresh, high-grade kajiki (Pacific blue marlin), boneless, skinless, medium diced
1 grapefruit, skinned, medium diced
1 baby fennel bulb, sliced thin
2 medium shallots, sliced very thin
2 hefty pinches sliced green onion
2 hefty pinches toasted puffed rice (bubu arare is a good substitute)
2 hefty pinches ngo om (rice paddy herb, pronounced "gnaw-ohm," found at Vietnamese grocery stores)
Red Boat brand fish sauce, single squirt or to taste
salt, to taste
Lemongrass-Kaffir Lime Sauce (recipe follows)
Mix all ingredients together well and serve.
Lemongrass-kaffir lime sauce
2 Tbsp coriander seeds
6 cloves garlic, smashed
6 stalks lemongrass, smashed and sliced thin on bias
1 onion, sliced thin
½ cup cilantro root, sliced thin
2 Thai chilies, seeded and sliced thin
⅓ cup kaffir lime, sliced thin
¼ cup jasmine rice powder (raw jasmine rice blended into fine powder)
sugar, to taste
lime juice, to taste
fish sauce, to taste
oil
water
Toast coriander seeds in lightly oiled pan.
When coriander is toasted, add garlic and sweat until aromatic. Add lemongrass and sweat more. (Add more oil if necessary to prevent sticking.)
Add remaining ingredients through kaffir lime with a pinch of salt and continue to sweat. Do not brown—ingredients should remain colorless.
Add water to barely cover ingredients. Simmer until everything is soft.
Cool mixture and transfer to blender. Blend on high until smooth. Add jasmine rice powder and blend on high for five minutes to allow the sauce to fully thicken.
Season sauce with lime juice, sugar and fish sauce, to taste. Strain sauce through a chinois or very fine mesh sieve.