Kalo and more! Head to Hana this weekend for the annual East Maui Taro Festival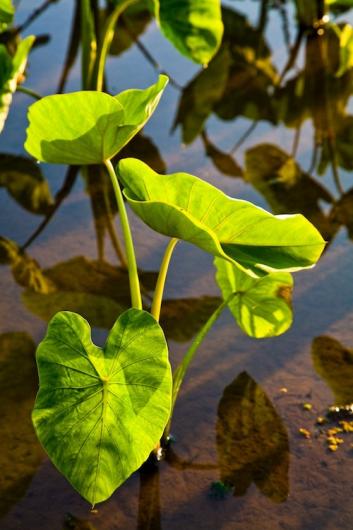 If you're on Maui this week and planning to take on the as-scenic-as-it-is-willfully-winding Hana Highway this week, save the big road trip for Saturday, May 3.
That's the day one of our favorite small Hawaii small towns—that would be Hana—gives up its ballpark to the annual East Maui Taro Festival. This year's 22nd annual celebration of the lush east side's wondrous kalo (taro) and other agricultural crops will again reinforce the increasingly well-known truth (among Hawaii residents and frequent visitors) that there is way more to taro than just poi.
Rest assured, there will be poi at several of the more than 20 food booths at the fest. Good poi. Sweet poi. Fresh poi. But you'll also get a chance to sample taro burgers, taro seafood stew, kulolo (a mashed taro and coconut dessert) and other kalo delicacies. Add to that poi-pounding demonstrations; more than 40 booths featuring hala weaving, kapa demonstrations, arts and crafts; and lots of live music and hula and you've got the makings of a wonderful day of fun, food and knowledge.
Two other cool things? Attendance is free and you get to spend the day in Hana.
Photo: East Maui Taro Festival
Should you be fortunate enough to spend Sunday in Hana as well and find yourself ono for even more kalo, the Hana Business Council will host its annual Taro Pancake Breakfast from 7:30 to 10 a.m. on May 4 at Hana Bay. Later in the morning, the National Tropical Botanical Gardens' Kahanu Garden will be hosting free guided tours of its lovely seaside cultural gardens from 11 a.m. to 12:30 p.m. From 11 a.m. on Sunday, the Kapahu Living Farm will also offer free guided tours of its loi kalo (irrigated taro terraces) and ag acreage.
On Friday evening, a sold-out fundraising community dinner hosted by Edible Hawaiian Islands magazine and the Travaasa Hana resort at Kahanu Garden aims to celebrate kalo and benefit the filming of the kalo-focused documentary film I Am Haloa. (Read more about the documentary here.) The four-course meal will feature taro-spotlighting dishes crafted by noted Hawaii chefs Isaac Bancaco (Kaana Kitchen at Andaz Maui Resort), Lee Anne Wong (Koko Head Café), Derek Watanabe (Travaasa Hana) and James Simpliciano (Simpli-Fresh Produce).
For more information about the 22nd annual East Maui Taro Festival, visit the fest's official website