Kauai has a new grocery store where everything is locally sourced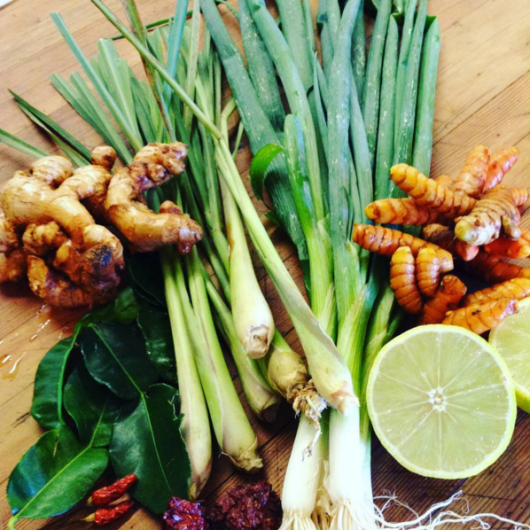 When you're 2,500 miles from the nearest continent, the local food movement takes on an air of urgency. There are, however, some limitations. Hawaii farmers don't produce staples such as wheat, rice, butter or cheese.On a mission to serve up 100 percent local cuisine and groceries, Kauai's Collin Darrell and Adam Watten bumped up against these walls quickly. For their all-local concept to come to fruition, Darrell, a wine industry veteran, and Watten, the former executive chef of Koa Kea Hotel & Resort at Poipu Beach, had to get creative.
"Flour and dairy are the two big, 'What do you do?'" Darrell says. "We're making flour out of breadfruit, cassava and kiawe beans. For dairy, we're doing beef butter. It's rendered lard that works as a cooking medium. It's really great."
This month, the duo launched Hanai, an all-local grocery market with high-quality, organic produce, meats and dairy. In the Hawaiian language, hanai means to adopt, to be close to, to nourish or to sustain, and you may recognize their name when they were operated a pop-up restaurant on Kauai last year. The market is open from 2 to 8 p.m. on Thursday through Sunday.
Hanai's shelves are stocked with seasonings such as garlic chives, chocolate mint and curry leaves ($1–$2), as well as eggs ($9 per carton), ground beef ($5.50 per pound) and pork intestine ($4.35). There's produce such as kalo (taro, at $3) and soursop ($6) as well as garnishes and sauces, such as kimchi ($15), kumquat compote ($9) and coconut curry ($8).
Hanai even stocks dog food—a blend of beef, kale and breadfruit priced at $7.50 per pound.
The market is the first in a three-part concept that also includes a restaurant and butchery inside the former Kojima Store space in the heart of Kapaa.
"The goal is to make local ingredients accessible and give some guidance," Darrell says. "This is kind of an extension of the farmers' market. If you're here on vacation and you want to cook a meal that you could not have anywhere else in the world, this is the one-stop shop for that."
Hanai also offers market meals: All the ingredients needed for a delicious dinner for two or more. You don't need a cutting board or a knife to prepare it, and it's ready in 15 minutes. On a recent Thursday, the market meal, priced at $30, included Kauai shrimp with fennel, eggplant, edible flowers and coconut curry.
"What we're after is delicious, high quality food that happens to be from here," says Darrell. "That's our focus."
---
Open Thursday thru Sunday, 2 to 8 p.m., 4-1543 Kuhio Hwy., Kapaa, Kauai, hanaikauai.com