Kauai in just one day: 5 things to do, part two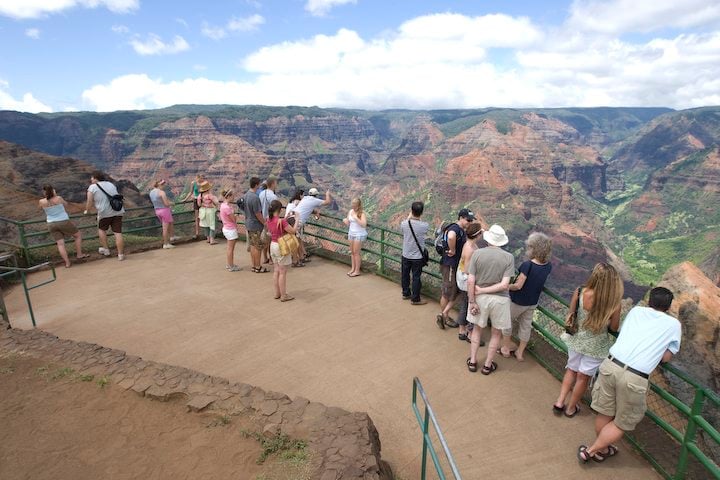 A couple of months ago, a friend who was spending a weekend on Kauai challenged me to come up with a quick list of the five things I would do on the island if I had only one day there.
That list focused on the east and north shores of the island. My friend had no complaints—and neither did any HawaiiMagazine.com readers. In fact, you asked for more Hawaii "five-things-to-do-in-a-day" features.
So here's a list for the south and west shores of Kauai.
Like last time … assuming I had an early flight in to Lihue Airport, a rental car and a late flight out, here's what I'd do, in the order I'd do them:
1. Koloa Town for breakfast and exploring
Head south out of Lihue to the monkeypod-shaded main street of this picturesque former sugar plantation town. Much of the old storefronts are still intact, though now occupied by small restaurant and snack shops, galleries, gift and clothing retailers and general stores. Visit Koloa History Center for a look at the town's plantation past, then drive along the Poipu resort area coast, stopping at the Spouting Horn blowhole.
2. Hanapepe and Waimea Canyon
Back on Kaumualii Highway, head south to Hanapepe, another quaint former sugar plantation town. The main street of this still vital residential community has become an enclave for artists, gallery owners and a new wave of small businesses. After some brief exploring, pick-up a take-out lunch and drive to Waimea town. We'll stop back here later, but for now, take a right onto Waimea Canyon Drive, stopping at the many lookouts clinging to the edge of "The Grand Canyon of the Pacific."

3. Kokee State Park
The best thing about a trip up Waimea Canyon Drive is the opportunity to view two of Kauai's most amazing natural wonders on one scenic drive: the canyon and Kokee State Park. After the lookouts of 10 mile-long and 3,000 feet-deep Waimea Canyon, continue driving upslope to cool and lush Kokee State Park. Native plant and birdlife fill the rain-kissed forests of this windy 4,345 acre plateau. You won't be able to take in any of the park's almost two-dozen trails on this Kauai day trip. But be sure to drive to the end of the road to the lookout for breathtaking Kalalau Valley on the famed Napali Coast.
4. Waimea Town and a stroll on the west shore beaches
Spend the remainder of your afternoon exploring another one of our favorite west-side Kauai towns or sink your toes in the sand of the region's lengthy stretches of beach. Waimea is a bit more bustling than Hanapepe, with retail aimed more at serving its larger resident population. Grab a Tropical Rainbow shave ice (mango, lilikoi and guava syrups with macadamia nut ice cream) at Jo Jo's and walk the swinging bridge of Menehune Ditch. Or walk the miles-long white sand stretches of Kekaha Beach Park or end-of-the-higway Polihale State Park.
5. Dinner at Brick Oven Pizza
On the way back to Lihue Airport, stop by this landmark Kalaheo Town pizzeria whose pies are famous statewide. Brick Oven has been a favorite of residents and visitors for a quarter-century. Baked, you guessed it, in an old brick hearth, Brick Oven's homemade dough is brushed with garlic butter, and given a base of tangy, slow-cooked house-made sauce. One of our favorite toppings is Brick Oven's fresh-made Italian sausage. Otherwise, any topping on the menu will do on this pizza.Take out if you have to. But if you've got some time, have a seat and have your pie piping hot.