Kauai north shore deal! Castle at Princeville hotel rooms from $125 a night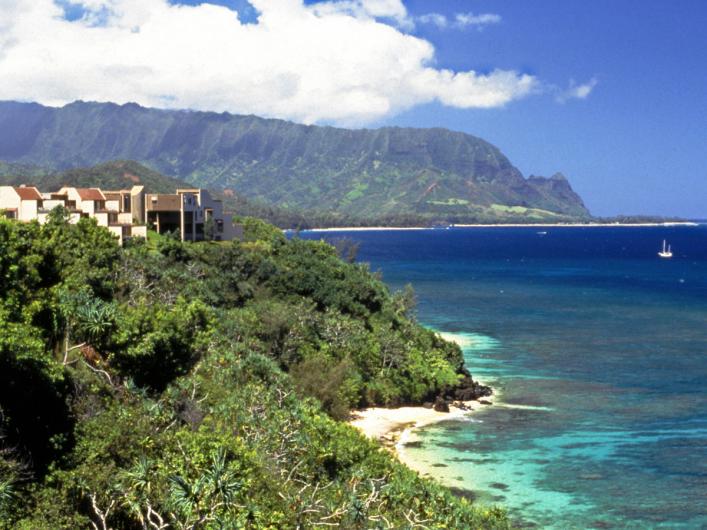 The rebranded, reimagined and soon-to-be-reopened St. Regis Princeville Resort promises to be the luxurious grand dame of hotel properties in Kauai's Princeville resort community. But it's not your only option should you want to stay on the island's picturesque north shore.
Just minutes from the rustic charms of Hanalei and Kilauea towns—and a short drive from the area's famed bay and beaches—condo property Castle at Princeville is a peaceful, budget-priced respite for those staying on the north shore.
The resort's Summer on Sale deal sounds like sweet relief for Kauai travelers on a budget. Prices for a number of Castle at Princeville's 34 kitchen-equipped suites and cottages are discounted significantly. On a search of the resort's Web site, we found Internet-only room deals as low as $125 a night, from now until Sept. 30, 2009.
Rates for Castle's Hale Moi cottages start at the aforementioned $125 for a mountain view studio, $151 for a one-bedroom. Rooms in the resort's Pali Ke Kua room class are priced as low as $134 for a one-bedroom mountain view suite, $162 for oceanfront suites and $170 for two-bedroom mountain view rooms. Taxes and fees not included, of course. All rates are subject to availability.
The discounted rates are only available online through Castle at Princeville's Web site. Rooms in the Summer on Sale deal are usually priced between $220 and $380.
Click here to book a room. Or for more information on Castle at Princeville's Summer on Sale deal call (808) 826-9066.