Kauai officials looking to spur redevelopment of iconic Coco Palms Resort property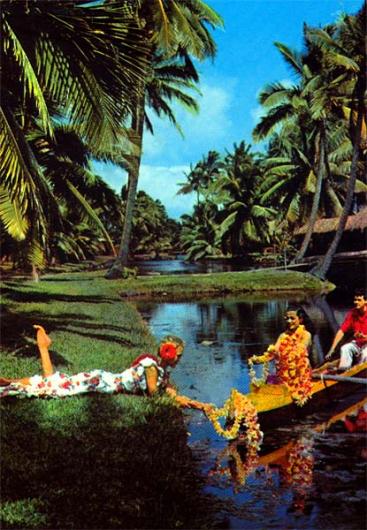 After opening in 1953, Coco Palms Resort on Kauai emerged as an icon of Hawaii tourism, attracting famous guests such as Frank Sinatra, Bing Crosby and Elvis Presley. Much of the last portion of Presley's 1961 movie Blue Hawaii was filmed in the resort's lagoon.
Three decades later, however, Hurricane Iniki severely damaged the Wailua Beach hotspot. In the aftermath of the September 1992 hurricane, the resort closed. Today, the still-shuttered site is referred to a dilapidated eyesore.
Citing lack of action on permits issued several years ago to redevelop the resort, Kauai County officials are now moving to revoke them. In a Kauai County news release issued yesterday, the Planning Department's director, Michael Dahilig, said: "Twenty years of blight and inaction must stop now."
Dahilig is asking the county's Planning Commission to schedule a revocation hearing on the matter within the next few months, which could open the door for other redevelopment options.
Kauai Mayor Bernard Carvalho and Council Chair Jay Furfaro are backing Dahilig's move. In a joint statement, they said: "The owners have had ample time to seek solutions and yet we are still at square one."
The statement continued, "It's time to move forward and look to other options that will address the future of this historic site. Once the permit issue is resolved, we will be in a better position to discuss what those options might be."
In 2006, Coco Palms Ventures, a group headed by Maryland-based developer Phillip Ross, bought the resort for $12 million. The property includes 16.4 acres on Kuhio Highway, and the 17-acre coconut grove, which is leased from the state.
Coco Palms Ventures intended to invest $220 million to build 200 condos, 104 hotel rooms and 48 bungalows. It seemed then like the resort would be reborn.
No such luck, though. The venture halted all plans and put the property up for sale in 2007. It blamed the Kauai Planning Commission, which denied its plans to build a full-size spa, but also conceded that the weakening housing market was a factor.
Where does the fate of the Coco Palms Resort stand today? Coco Palms Ventures had its permits extended to 2013 and the property is reportedly still listed as up for sale.
In addition, in recent years, nonprofit groups have endeavored to protect the land, which once belonged to Hawaiian royalty, and to require any redevelopment project to preserve cultural and historic areas. In 2009, a centuries-old manmade fishpond on the property was designated in the National Register of Historic Places.